Denise talks about her highlights
Denise Hodges is Head Housekeeper at Caton House Residential and Nursing Home in Bletchley, Milton Keynes and has been with Sanctuary Care for 23 years!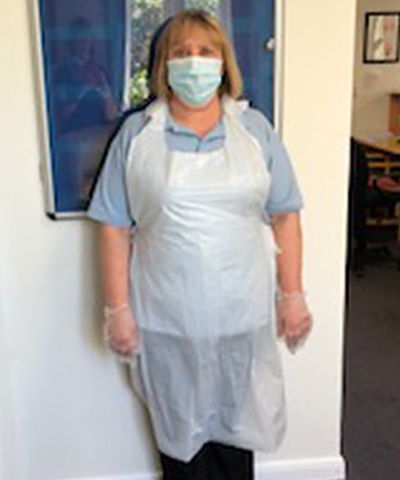 Denise first joined the team at Caton House when it had just been built, helping to prepare the rooms and do show-rounds for potential residents.
She said: "I went along to Caton's open day and found it all so interesting that I decided to apply for the role of Housekeeper and I got the job. Over the years, I have worked my way up to Head Housekeeper and have completed relevant NVQs to progress in my role."
Part of a dedicated team
Like all jobs in care, it's about working together as a team and taking pride in your work, as Denise explains: "I take great pride in my work and we deliver a high quality housekeeping service to our residents, working together as a team and supporting each other to enrich the lives of our residents. I am inspired by the team I work with and together we can achieve the best for our residents."
A typical day for Denise involves making sure everybody is OK, giving her team their daily cleaning schedules and talking through what needs to be done, including any deep cleaning. She also orders cleaning products and linen, ensures the rotas are correct and checks the residents' bedrooms to make sure they are happy with everything, including their laundry.
She said: "I know the home and all the rooms so well, so it helps that I am involved in room redecoration for existing and new residents and I liaise with the Home Manager on this. My team and I then work together with our maintenance person to adapt rooms for the individual needs of the resident so it works for them, both in terms of medical equipment they might need and also a space for them to relax and sleep well. Most importantly I thank my team for doing a wonderful job at the end of each day!"
And she doesn't stop there, Denise also supports with fundraising events for the nursing home, which are often open to the local community in Milton Keynes, helping to run quizzes, fetes and other events alongside the Activities Coordinator.
In her heart
Denise explains why the care home and the people there mean so much to her. She said: "Caton House is very dear to me, having seen it being built and grow over the years; it's such a special place. I have had so many highlights over the years working here, I have met so many wonderful residents who have had such extraordinary lives that we can only imagine. I find it wonderful that they want to share these memories with me."