Interactive games for people with dementia
From using your hands to catch fish swimming in a pond to bouncing beach balls, the vibrant colours and magical sounds of the Magic Table's interactive light games for people with dementia are engaging and stimulating.
Created in the Netherlands and brought to the UK by the founders of Shift8* Limited, the Magic Table is essentially a box which is mounted on a ceiling which projects simple light games onto a table or the floor.
Encourages social, cognitive and physical stimulation
The Magic Table has been designed to stimulate people living in the mid-to-later stages of dementia to be more active. The light games encourage people with dementia to reach out towards them and the lights subsequently respond to their hand and arm movements.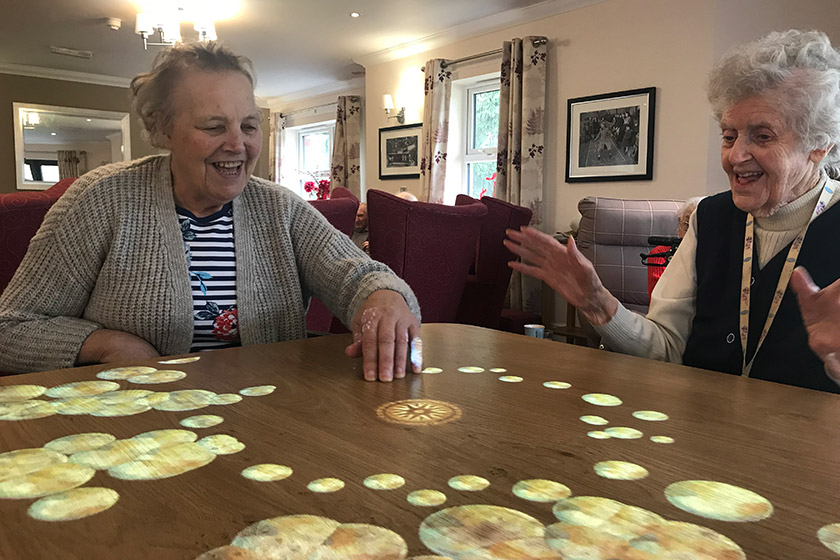 Staff at Sanctuary Care's Tyneholm Stables Care Home, a care home in East Lothian regularly use their Magic Table. Residents who can sometimes find it hard to engage with one another are instinctively drawn to the table and sit around it, playing games together. Sometimes they won't speak they will just play, or they may strike up conversations prompted by cues in the games.
There are also fantastic multi-generational benefits, as children can play fun games with their grandparents when they visit, creating wonderful memories for them and making them more likely to visit frequently as the home is more 'child friendly'.
The home's activities leader, Gail Percival said: "It is so good to see how it can help the residents to relax and socialise. It is so calming and it's lovely to see the expressions on their faces. Their eyes light up when they see the colours – it really helps us to enrich their lives and that is what we are here for."
Gail said there is one game that is fantastic for getting her residents talking. Players have to touch a ring to reveal the first part of a popular phrase or saying, like 'A stitch in time….' and then have to think of the ending. There is no pressure as if you touch another part of the ring it reveals more of the saying, highlighting the importance of word games for seniors with dementia.
Supports loved ones to communicate
Staff also find the Magic Table is wonderful for helping relatives to connect with their loved ones when they visit, especially if they are living with the more advanced stages of dementia and find it hard to verbally communicate. It eases the pressure of having a conversation because they can simply relax and play together instead.
The team and residents at Sanctuary Care's Lake View Residential Care Home, a care home in Telford, are also seeing the benefits of their Magic Table.
Hazel King, daughter of resident Maureen Pegg (pictured) said: "Mum really enjoys this fun, sociable and stimulating table. She is able to play with it by herself or with her friends and family."
The home's manager Michelle Cartwright continued: "It has been a real joy to see the impact the Magic Table has already had on our residents, in such a short period of time – it has been wonderful for interaction, relaxation and even reminiscence, especially the light game about gardening and fishing."
John Ramsay, CEO of Shift8* said: "We are delighted by the overwhelming response from the residents at Sanctuary Care when using the Magic Table. Designed to support people living with dementia with so many positive and invaluable experiences, we've been really touched by the passion and enthusiasm of the teams in these homes."
As well as having these tables in some of its other homes, Sanctuary Care is exploring the use of other 'experience tables' and innovative technologies involving light games for people with dementia to further support our residents.