Marcella Field's story
Here we introduce Marcella Field, who works as a chef manager at Yarnton Residential and Nursing Home in Yarnton, Oxfordshire and has been with Sanctuary Care since 2010.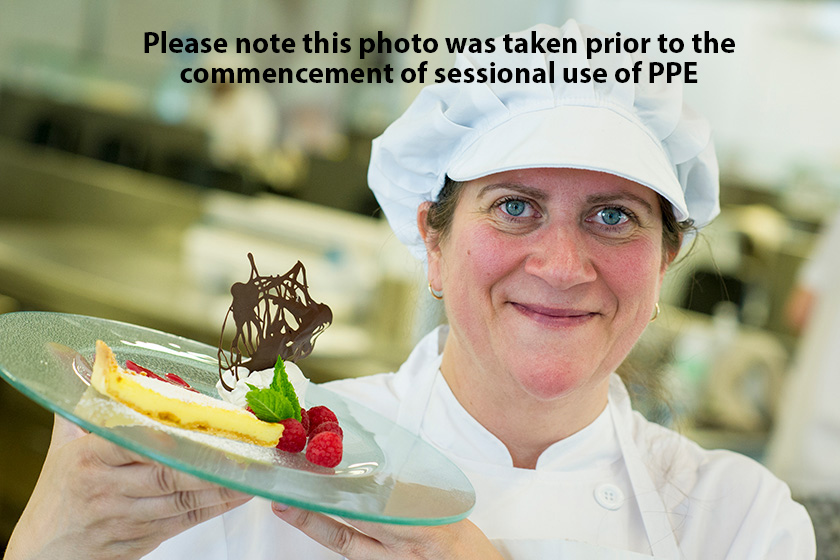 She explains what attracted her to the catering sector in the first place and how she became the head chef in one of our kitchens.
"I've always been in catering. It all started at the age of 16 when I attended catering college for two years. I knew from the offset of my studies working with food was what I loved to do and after all these years I'm still doing it today – I'm very lucky.
"From my college days to working in a Sanctuary Care kitchen, I've had many different working projects. I've worked in busy restaurants and pubs, cooked for the army - and I can't forget about Princess Anne and Princess Margaret sampling my food. There have been many highlights but my current position has to be the brightest as I'm so proud of the standard of catering at Yarnton and feel humbled that I play a part in that."
Describing her typical day at Yarnton, she continues: "Unsurprisingly, it's all about preparing fresh food from scratch, every single day. I ensure we adhere to strict nutritional values while making sure our seasonal menus accommodate the taste buds of my residents. I also make sure the highest quality food is served every day and I carry out daily checks to confirm we are doing this, including speaking with the residents."
On top of delicious three-course suppers and other meals, Marcella also provides beautiful cakes for memorable occasions and adds: "I'm often busy baking cakes for special birthdays or supporting the home with community events by providing themed refreshments where necessary. For instance, for Care Home Open Day we once put on a seaside-themed spread for everyone to enjoy – it's all good fun!"
Marcella has excelled in many competitions, five times winning the title of Sanctuary Care Chef of the Year, as well as coming second in the regional final of the National Association of Care Catering in 2012. 
For the Chef of the Year competition Marcella dished up a mouth-watering menu of lamb cooked two ways – a miniature shepherd's pie and pan-fried lamb cutlet - with dauphinoise potatoes, baby vegetables and a red current jus. Marcella's prize-winning dessert was a tarte au citron finished off with summer fruit coulis and an artistic chocolate decoration.
On winning first place, Marcella says: "I was so overwhelmed to have won the competition as the standard of entries was really high."
Also, providing her insight into why competing is so important, she comments: "I think it is so important, not only to showcase our creative flair, but also to help break the taboo of care catering. The teams at Sanctuary Care's homes work hard to make nutritious, high quality food for our residents and it's a joy to see the enjoyment they get from the dishes we prepare."
Concluding on the most rewarding part of her job she simply says: "It's all about the residents. Nothing compares to cooking for our residents – they are always so grateful to have a nice plate of food in front of them. When I carry out the daily checks, the residents and even their families are always so complimentary. It makes the hectic hour or so beforehand all worthwhile and in a way it's like cooking for your own family – I know everyone by name and they know me. I can't put into words how much joy I get from it all."