Our Resident Volunteers
For Dorothy Bromwich, moving into Bartley Green Lodge, one of our care homes in Birmingham, doesn't mean she misses out on spending time with the younger generation. Every single week come rain or shine a member of the team takes her to St Peter's Catholic Primary School, where she is a fully-fledged volunteer.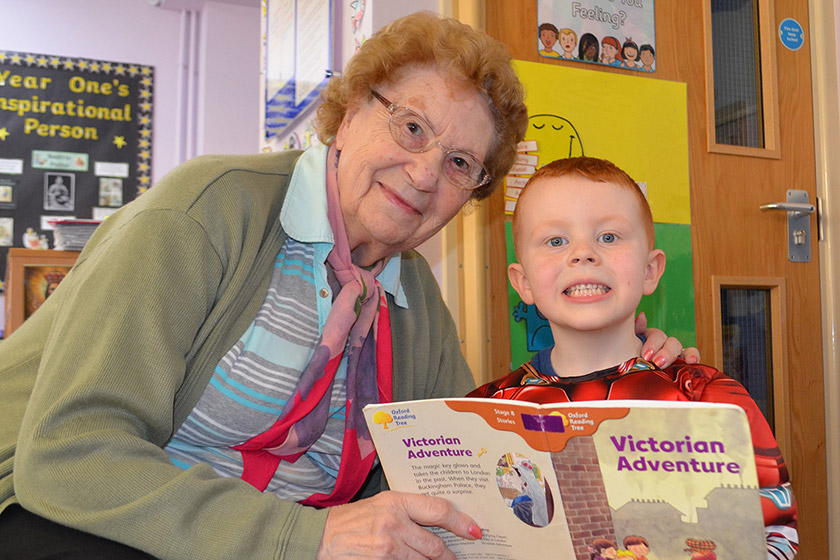 Dorothy, who lives at the home with husband Tommy, regularly visits the children in year one. When she walks into the classroom they can't wait to tell her what they have brought in for 'show and tell'.
She then reads the eagerly awaited next chapter of Wind in the Willows, before listening to the children read to her.
Brilliant minds thing alike
Speaking about her visits Dorothy, who is 90 years old, said she is constantly amazed by the intelligence of the five and six year olds. She said: "They will be brilliant people when they grow up, they have brilliant brains.
"It's really nice to come to the school; it's amazing and so lovely to have the opportunity to do this."
The class teacher Aisling Flanagan said that Dorothy's visits are brilliant for the children, who benefit enormously from spending time with the older generation.
She said: "It's really good for their social confidence and communication skills. I've never seen them so engaged in a story – it's also wonderful for their listening skills."
Aisling said it is often the quieter children who respond particularly well to guests like Dorothy visiting them to read.
Age is no barrier
Home manager at Bartley Green, Leanne Carter said linking up with schools like St Peter's is mutually beneficial for both generations, forging friendships that eliminate age barriers.
"At Sanctuary Care intergenerational projects are simply part of everyday life in our homes," she said.
"Our partnership with St Peter's means so much to us at Bartley Green. The school has even invited our residents on excursions to places like the Black Country Living Museum, which our residents absolutely loved!"
Part of the local community
The home also opens its doors to children from St Peter's and the local community, who love to take part in activities with the residents, like baking, colouring, singing and dancing.
The home works closely with schools on their curriculum too, so that they can tailor activities to support their learning.
The home's activities leader Alexandra Mendez Girones is also training to be a Dementia Friend, so that she can go into schools in the area and speak to the children about what it's like to live with dementia.