Raycel's passion for nursing
When Raycel Apsay was growing up in the Philippines she was inspired by her aunts, who were all nurses. The mother of two very quickly realised looking after people's health and wellbeing was her true calling.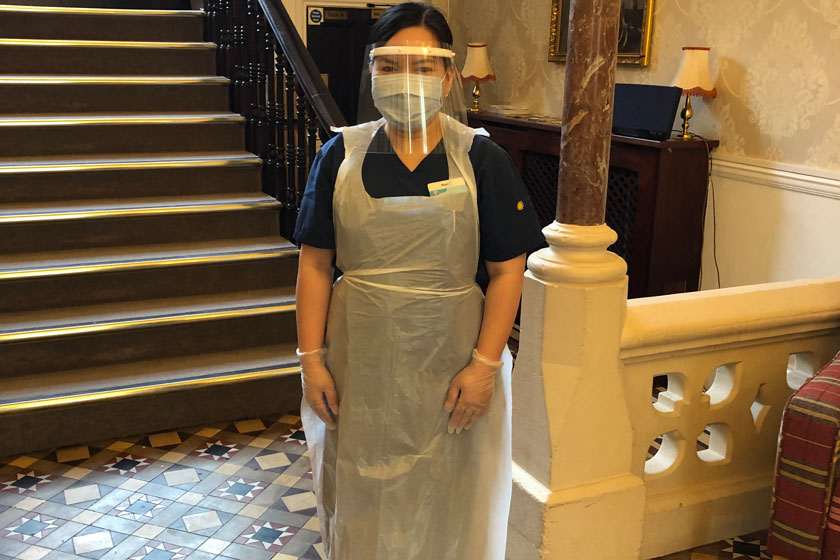 After moving to England, she started working at a nursing home in Somerset, before moving to The Rosary Nursing Home in Bridgwater five years ago. The team and residents have become like her second family, and her husband Nestor also works at the nursing home as a care assistant.
Speaking about the opportunities working at The Rosary have given her she said: "I have learnt so much and gained so much confidence here. The staff are so supportive and there is something different to look forward to every day. I feel happy here."
Cool, calm and collected
Described by home manager Natali Edwards  as "a swan" who gets everything done while remaining completely composed, Natalie added: "She makes others feel calm and confident. She has such a calming presence."
When Raycel talks about the home's residents it's clear why she is a nurse. "We treat the residents, and their families as our family and looking after them makes me feel contented, fulfilled and valued, especially when they show how much they appreciate what you do," she said.
The residents Raycel cares for have a wide range of medical conditions. Some live with dementia, while others may be recovering from a stroke, a fall or have diabetes.
A team to be proud of
Talking about her colleagues at the nursing home she said: "The teamwork and the dedication of the staff makes me proud."
During the coronavirus pandemic Raycel said this amazing teamwork truly shone.
"When we have finished nobody goes home, they will go to the help each other on different floors. "You are never alone; everybody helps each other it's like a family."
Something else that made her beam with pride was when people from the local community stood on their doorsteps to clap and cheer for the team every Thursday night, showing their appreciation for the phenomenal job they do.
"It's just overwhelming. When you hear those claps you feel so valued and loved – and very proud."