Val's passion for swimming
Passionate about swimming since childhood, when Val Wren suffered a stroke and moved into a care home, she thought she would never be able to swim again.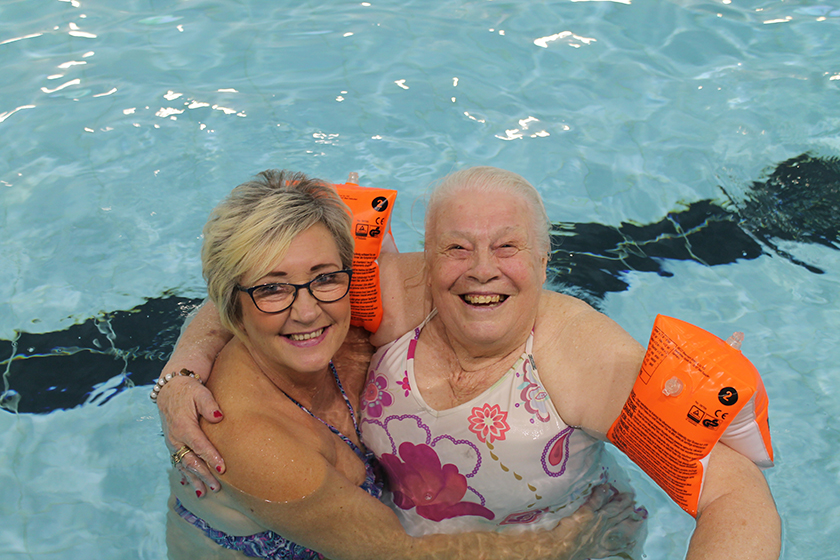 Back in the water
Having moved into Sanctuary Care's Regent Residential Care Home in Worcester last year, Val talked a lot about her love of swimming.
She says: "It is something I've enjoyed for years and years. It makes me feel smashing! After my stroke I never thought I would get there again."
Senior Care Assistant Karen Turner wanted to help Val to reignite her hobby, so dedicated an afternoon every fortnight, when it was her day off, to take her.
Karen takes Val to nearby Perdiswell Leisure Centre. As Karen gets Val ready at Regent she is buzzing with excitement. When she arrives at the pool the staff all know her and make her feel really welcome.
Joy and relaxation
As soon as Val is lowered into the pool using special equipment she is off - she shuts her eyes and paddles on her back. She does not stop smiling and laughing the whole time she is swimming. The joy she experiences highlights the social and emotional benefits of water exercises for seniors, as well as the obvious physical health benefits of exercise.
While in the water Val shouts: "Oh it's lovely I never want to get out! It's brilliant." She starts swimming on her front and, determined to push herself, whoops with delight when she reaches the side of the pool.
The long-term benefits for Val are clear to see – as well as the obvious relaxation she feels when she is in the water, her poorly knee feels better after a swim.
Karen says: "She absolutely loves it; it is such a boost for her. She is so relaxed when she is in the water and would stay in here all day if she could."