Beneficial visit from some furry friends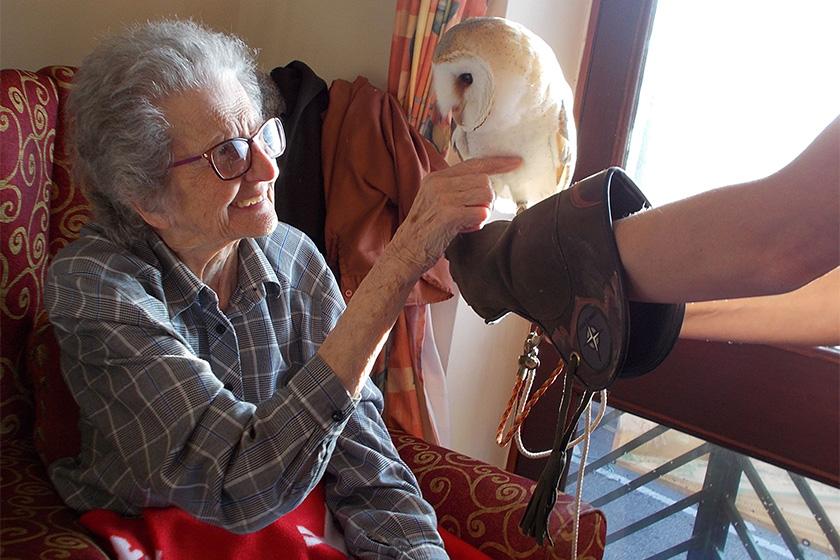 There was animal magic when residents at a Sanctuary Care home in Exeter received a visit from a collection of cuddly critters.
Getting up close, residents at Greenslades Nursing Home on Willeys Avenue welcomed furry friends including rabbits, guinea pigs and even two owls.
Animal-handlers John and Jenny Bunting from Buckfastleigh have visited Greenslades to deliver pet therapy for a number of years, something which they love doing. The animal-assisted therapy is proven to promote wellbeing and increase social participation, especially for people living with dementia.
Speaking of their visits John said: "Seeing the smiles on the residents' faces is just always so rewarding."
Whizzey the barn owl was a fast favourite at the nursing home, held by activities leader Debbie Maguire the residents all got the chance to stroke her magnificent feathers.
Resident Christine Knight (pictured) said: "It was lovely to stroke the owls; they had much softer feathers than I thought they would!
"I just feel amazed and it puts a smile on my face even thinking about it now."
Debbie added: "It's always so wonderful to see the residents holding and stroking the animals – their faces just light up!
"Their visits are so beneficial to our residents; they love welcoming all of the animals into Greenslades and stroking and handling them is extremely therapeutic."