It's all fun and games this Care Home Open Day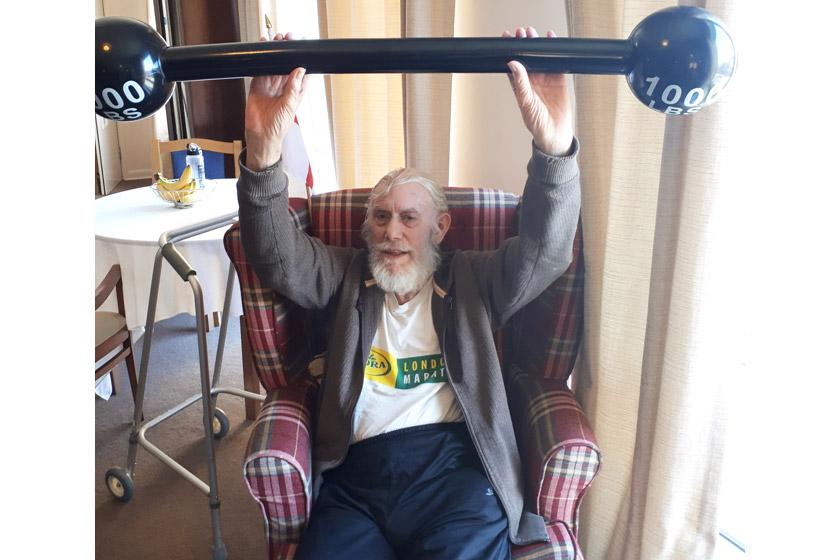 A Sanctuary Care home in Harrow will be 'getting physical' as they celebrate Care Home Open Day next week.
On Saturday 21 April, between 10.30am and 12.30pm, people from the local community are invited to Rowanweald Residential and Nursing Home to enjoy a very special celebration.
The bunting will be hung, as the home's team and residents host a Great British Sports Day with fun and games for the whole family. There will also be a range of scrumptious sweet treats to enjoy including homemade cakes.
Getting some 'weight-lifting' practice in before the big day, 79-year-old resident Christopher Bennett (pictured) said: "Wow I feel really strong! The Sports Day sounds really good."
Activities assistant Elaine Rivers said: "Our residents have so many wonderful memories of Sports Days, their own and those of their children growing up so we do hope as many people from the local community can join us for a day full of fun and reminiscence for what promises to be a very special day."
An annual celebration
Saturday 21 April marks the sixth annual Care Home Open Day, when homes nationwide open their doors and welcome people to share a special day with their teams and residents, forging lasting links with their local communities.
The theme for this year is linking communities, so if anyone would be interested in attending and making some new friends at Rowanweald please drop in anytime between 10.30am and 12.30pm.
Care Home Open Day comes as a double celebration for Sanctuary Care, which is marking its 20 year anniversary of delivery care to its residents.
The address for those wishing to attend is Rowanweald Residential and Nursing Home, 1 Weald Lane, Harrow Weald, Harrow HA3 5EG.