Pitcairn Lodge unveils mural remembering the fallen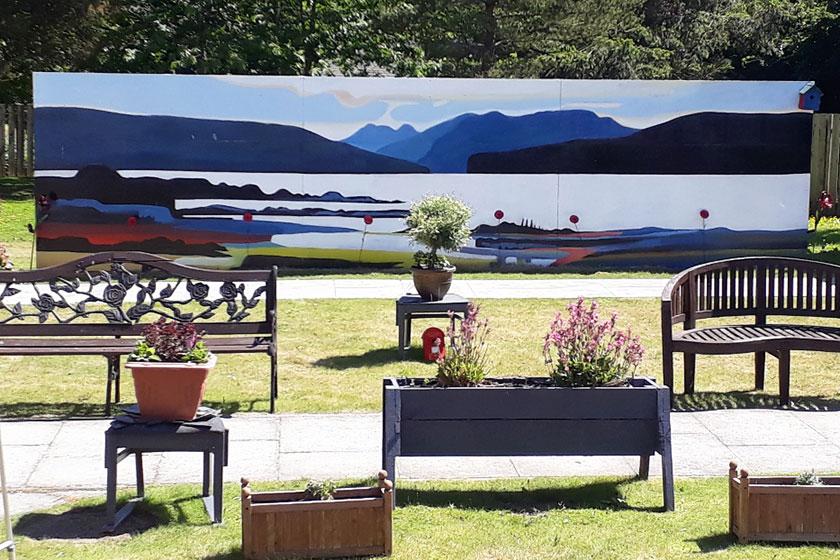 A Sanctuary Care home in Westhill celebrated the grand unveiling of a new beautiful mural at the home today, to signify the 100th anniversary of the end of World War 1.
Taking a trip down memory lane, the team and residents from Pitcairn Lodge Care Home on Kirkton of Skene, hosted a commemorative celebration to mark the 100th anniversary which falls in November of this year, and with the help of the Provost of Aberdeenshire, Cllr Bill Howatson unveiled a new mural in one of the home's gardens.
The painting, which took inspiration from one of Scottish artist Pamela Carters landscapes, depicting a Scottish water scene with a number of remembrance poppies, was painted for the home by Colin Kay from the Westhill Men's Shed.
Speaking at the event, the Sanctuary Care home's manager Moira Taylor said: "We commissioned this mural to show our appreciation for all the armed forces have done for us past and present.
"This year we mark 100 years since the end of World War 1 and having residents in our home that have been at war this is something very close to all of our hearts – we are thankful for the sacrifices they have given for our country."
Throughout the event, the home's residents and their guests enjoyed games, a cupcake competition and a 'post-wartime picnic' complete with mocktails.
Moira continued: "The best part about a project like this is seeing our resident's joy since the gardens transformed – our home would not be what it is today without the commitment of our staff."