Harwich residents celebrate Afternoon Tea Week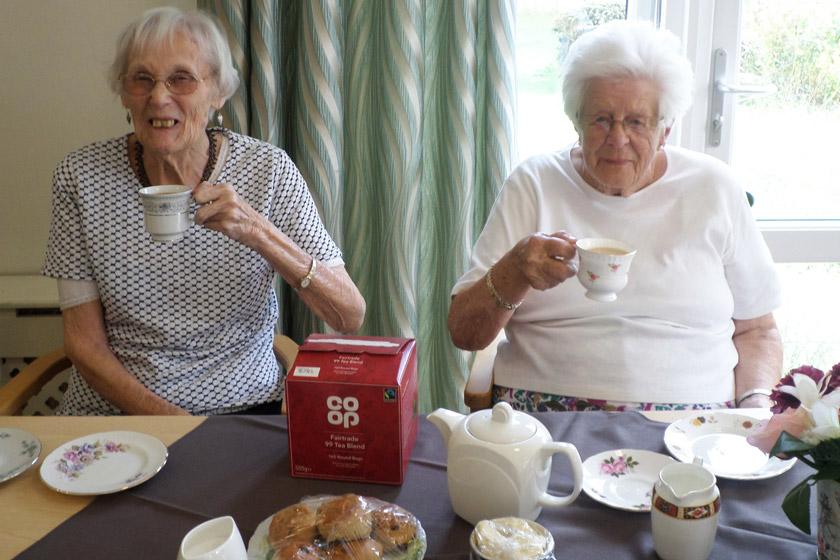 A Sanctuary Care home in Harwich joined the national afternoon tea celebration, with a little help from their friends.
There were fabulous finery and homemade bakes that Paul Hollywood would be proud of, when the residents and the team at Don Thomson House Residential Care Home in Low Road rejoiced one of the nation's favourite traditions.
National celebration with Co-op
The home whipped up a storm to provide the sweetest of treats for National Afternoon Tea Week 2018 (August 14 – August 20).
Residents and their loved ones brewed up an extra reason to smile thanks to their friends at Co-op, who put the 'T' in the afternoon tea. The local store donated drinks for the special occasion, as part of their Co-op Cuppa campaign.
Celebrating in style
93-year-old resident Margaret Webb said: "Oh we celebrated in style. It was so lovely, there was so many lovely cakes to choose from."
Fellow resident Kathleen (Kay) Hemingway, 89, added: "I always enjoy our afternoon teas, they are such fun."
After enjoying her scrumptious refreshments, Kay was asking who wanted to get up and dance with her.
The Sanctuary Care home's manager Donna Ashman concluded: "Our residents have always loved a good old fashion afternoon tea – and I don't blame them. There were plenty of cakes, smiles and laughter, and also thanks to Kay there was even plenty of dancing. It was the perfect afternoon."
About Don Thomson House
Overlooking fields, Don Thomson House is located in a quiet residential area of Dovercourt, a stone's throw from Harwich.
The residential care and dementia care home is designed with the usual home from home comforts you would expect, including lounges with fireplaces, light and airy dining rooms, a large garden and cosy bedrooms, as well as a hairdressing salon.
The dedicated team is on hand 24-hours a day, every day of the year and are dedicated to delivering care with kindness.
Along with enjoying high-tea afternoons, residents also take part in regular activities from baking and music to movement sessions to film workshops, reading clubs, live entertainment and arts and crafts.