Hawaii lands in Old Basing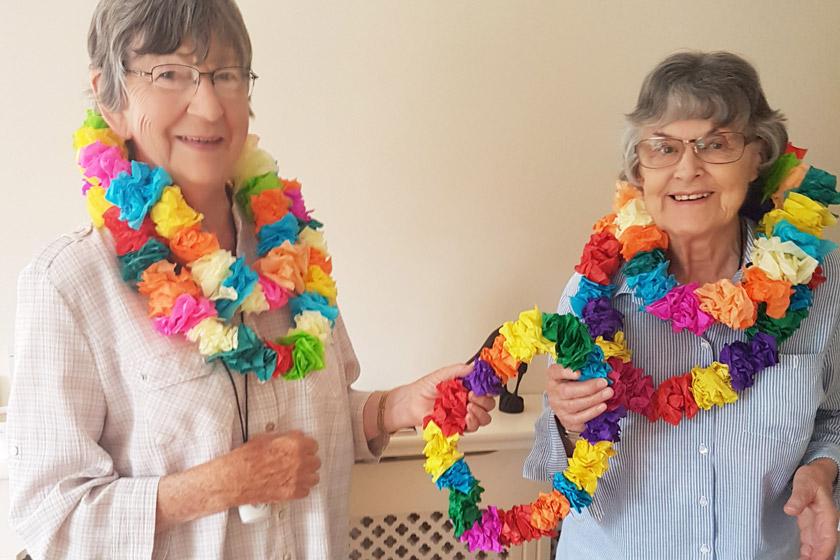 A Sanctuary Care home in Old Basing is pulling out all the stops as staff and residents set sail on their 'virtual' summer cruise next week.
Residents at Basingfield Court Residential Care Home in Huish Lane are embarking on a week-long voyage (starting on Monday 20 August), exploring the cultures and flavours of different destinations right in the heart of their home.
Boarding passes in hand, the home is being transformed into a number of popular holiday hot-spots for the residents to enjoy, including France, Italy, Jamaica and Hawaii.
Come and visit Hawaii
The home will be 'postcard-perfect' when residents throw open the doors on Saturday 25 August, 2pm – 4pm, with their Luau themed summer fete while docked in Hawaii.
The team will adorn grass skirts and beautiful handmade garlands which were crafted by residents for the very special occasion.
There will also be stalls, fun games, a live dance performance by Bus Pass to Broadway and scrumptious refreshments including fruity cocktail and mocktails from the home's very own tiki bar.
91-year-old resident Joy Loosley said: "It has been great fun making the beautiful garlands. At the beginning, I didn't think we could possibly make as many as we have! All we need now is the sun to shine and it will be like we are really in Hawaii."
Tasty cuisine
Elsewhere on the cruise, residents' taste buds will also enjoy all the flavours of destinations far away. From traditional Jamaican jerk chicken, rustic homemade Italian meatballs, hearty chicken chasseur in France and more.
Speaking of the adventurous week ahead, the Sanctuary Care home's activities leader Tracy Mercer said: "Many of our residents have travelled far and wide in their younger years with their loved ones, so we hope as many people from the local community join us as we bring Hawaii to the heart of Old Basing and help us celebrate many fond memories."
Address
The address for those wishing to attend is Basingfield Court Residential Care Home, Huish Lane, Old Basing, Basingstoke RG24 7BN.