Shetland pony visits residents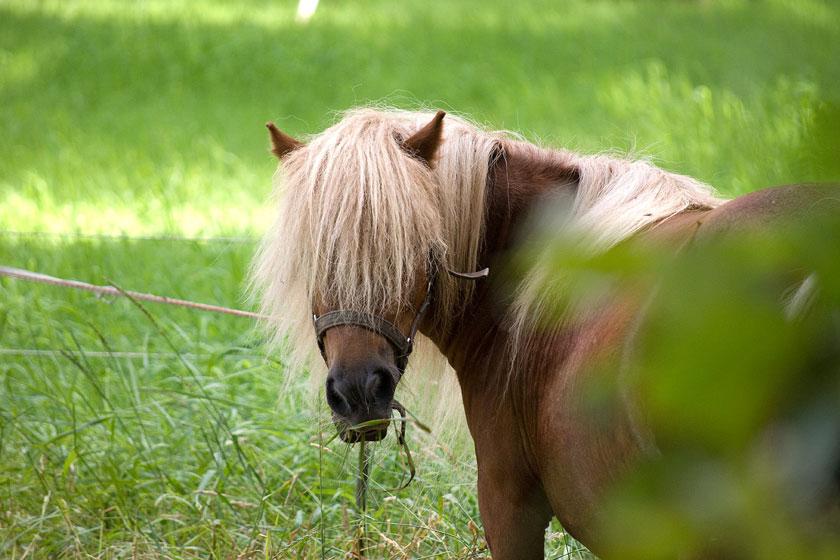 Residents at a Sanctuary Care home in Chester were treated to a special visit from little hoofs.
Dolly, a chestnut-coloured Shetland pony, trotted along to Upton Dene Residential and Nursing Home in Caldecott Close to meet residents for a spot of animal therapy.
Dolly proved a huge hit
The four-legged visitor, aged 10 months, proved to be a huge hit throughout the home due to their gentle and affectionate nature, and their love of meeting new people.
On meeting Dolly, 84-year-old June Egan said: "Oh isn't she just beautiful?"
Fellow resident, Vera Ruck added: "I am over the moon. Polly was lovely, I didn't want her to leave."
Bernie Harding, activities leader at the Sanctuary Care home – which has recently been rated 'Good' in all five areas of its CQC report (including caring, safe and well-led) , added: "When Dolly arrived into the home there was a real sense of excitement. Our residents adore animals so they couldn't wait to have a stroke – you could hear the cooing echoing throughout the home, it was priceless!"
Animal therapy
Interacting with animals is becoming increasing recognised as a therapeutic activity  for care home residents, including those living with dementia, as they provide a great source of comfort, companionship and motivation.
Among other benefits, stroking them can reduce blood pressure, have a calming effect on the mind and ease anxiety.
Bernie continued: "Animal visits are extremely thought-provoking and can bring back many wonderful memories, as well as being incredibly beneficial for their wellbeing."  
About Upton Dene
Situated in a residential area alongside the Countess of Chester Hospital, Upton Dene is a stunning flagship home designed with all the luxuries you'd expect including a cinema room and spacious bedrooms with en-suite wet rooms.
The dedicated team provide a range of care and support, including residential care, dementia care, nursing care and respite care. They are also on hand 24 hours a day, every day of the year and are committed to delivering care with kindness.
Along with animal therapy, residents spend their time as they choose, from taking part in interesting activities and rekindling old pastimes to trying new things. Regular activities include baking, light exercises, arts and crafts, knit and natter session and live music entertainment.