World cruise docks in Yarnton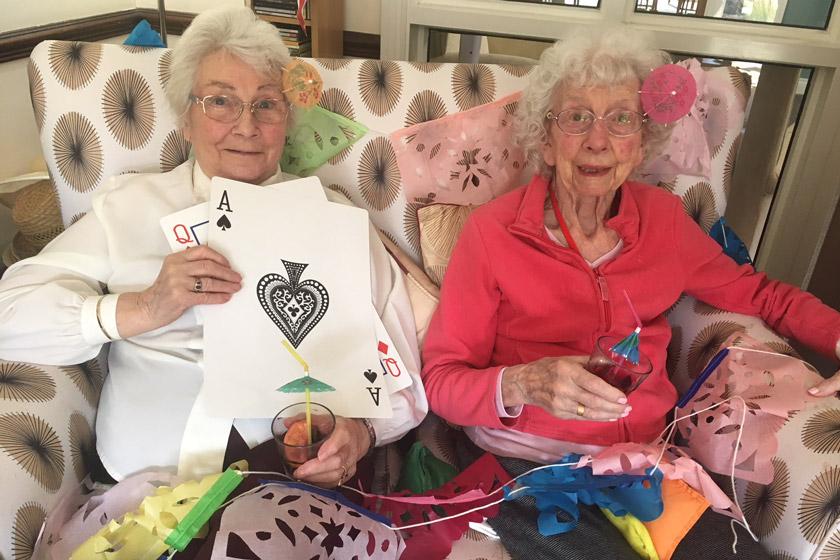 The residents and the team at a Sanctuary Care home in Yarnton set sail around the world on a 'virtual' summer cruise.
Globe-trotting residents at Yarnton Residential and Nursing Home in Rutten Lane recently embarked on a week-long voyage, exploring the cultures and flavours of countries far and wide, right in the heart of their home.
Boarding passes in hand, the home, which provides dementia care, residential care and nursing care, was transformed into a number of holiday hot-spots for the residents to enjoy, including Las Vegas, Australia, Mexico and Spain.
The entertainment capital of the world
On their day at the entertainment capital of the world, Las Vegas, residents threw open the door for an afternoon of casino-themed fun and fruity cocktails and mocktails with their local community.
Along with chancing their luck and playing their card rights, residents also adorned stunning Las Vegas inspired headpieces that they had decorated for the special occasion.
After all the festivities 90-year-old Betty Allsopp said: "Las Vegas was such fun! I loved it, especially the fruity cocktails."
From Mexico to Spain
Elsewhere on the cruise, residents turned their hands to aboriginal crafts and Melbourne Cup fun while in Australia and sampled a taste of Mexico with themed spicy food tasting.
While docked in Spain, toe-tapping dancing and piñata fun was enjoyed.
Fellow resident, Celia Hutton, 92 added: "Oh I loved the cruise experience! What a week we've had, I loved trying and learning about all the new traditions."
Speaking of the adventurous week, the Sanctuary Care home's activities leader Becca Tudor-Price said: "Our summer cruise was such a great hit with our residents and their loved ones. There were smiles, laughter, great food and entertainment, and even cocktails – it was jam packed but perfect. We can't wait for our summer cruise next year already."
Sanctuary Care's nationwide cruise
All of Sanctuary Care's homes across the country have been embarking on virtual summer cruise weeks, 'transporting' residents to different destinations all over the world.
The home's virtual cruise week comes as a double celebration for Sanctuary Care, which is marking its 20 year anniversary of delivering care to its residents.