Amazing Lille turns 101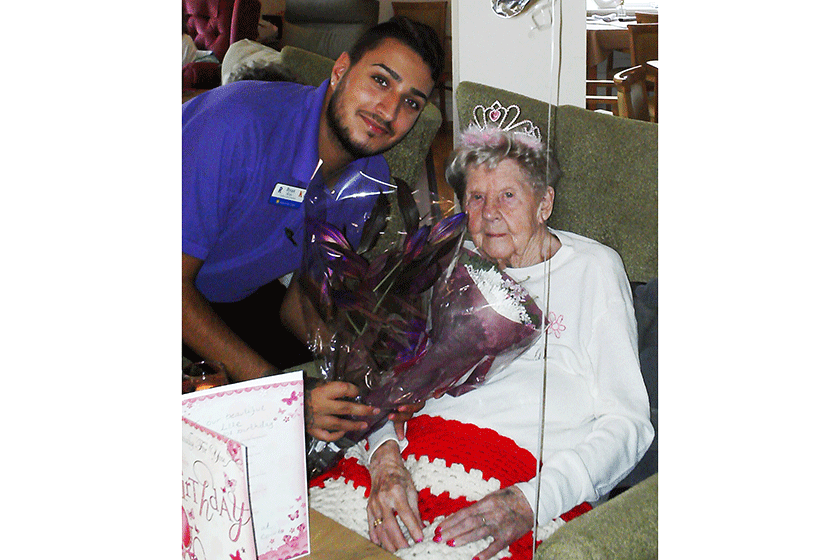 There were celebrations all round as a Sanctuary Care home resident in Bilston, Wolverhampton marked her 101st birthday, surrounded by family and friends.
Lille Bufton celebrated her 101st birthday on Saturday (1 September) with a special tea party at Lime Tree Court Residential Care Home in Ettingshall Road.
When asked her tips to reaching such a fantastic age she said: "No real secret really, just live a normal life and enjoy it!"
Born and bred in Wolverhampton, Lille grew up with her older sister and brother Jessie and Billy, and mother Annie – who was a post lady. Sadly her father William Henry Charles died two weeks before Lille was born, while he was serving in the First World War.
Growing up in Penn Common, Lille has fond memories of the area – from growing up on Wakley Hill to attending local school Saint Bartholomew.
During the war, Lille served the country by helping to make ammunition for the war effort in a factory in the heart of Wolverhampton.
During the 1940s she met husband Tom and they went onto have one daughter, June and three grandchildren, five great-grandchildren and one great, great grandson.
The birthday girl, who moved into the Sanctuary Care home in February 2016 at the age of 98, added: "I have so many fond memories, too many to count but a personal highlight for me was when my first grandchild was born. I love being a grandmother."
The Sanctuary Care home's activities leader Tracey Skinner added: "Lille is a true inspiration! She has so much joy and is always so happy to be around. We are enormously proud to have Lille here with us here at Lime Tree Court and it's fantastic to celebrate another milestone birthday with her and her loved ones."