Don't forget-me-nots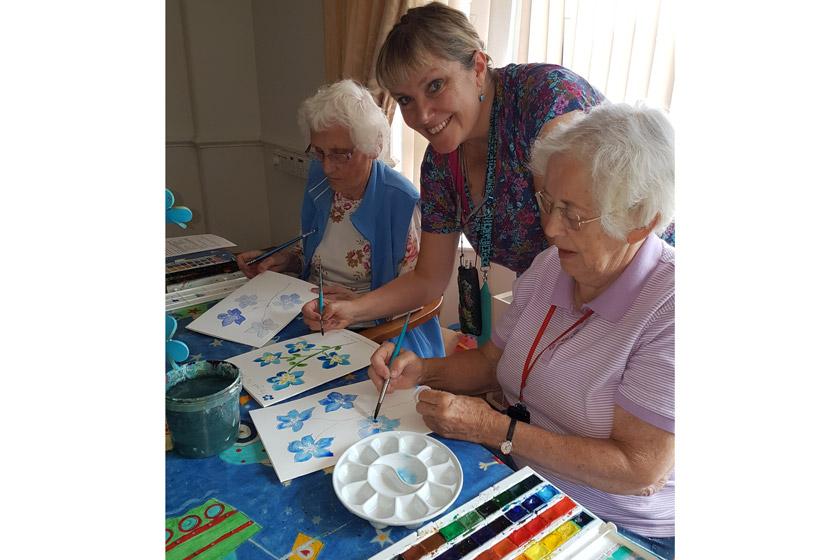 Sanctuary Care residents in St John's, Worcester are raising the awareness of Alzheimer's for a national campaign.
During World Alzheimer's Month (September), the team and residents at Regent Residential Care Home in School Road are rolling up their sleeves to lovingly create and paint as many beautiful forget-me-not flowers as possible with the help of artist and regular visitor to the home Judy Foulsham.
The beautiful flowers – which are associated with dementia – are being proudly put on display, transforming the home, which provides dementia and residential care, into a scene of blue and yellow.
Resident Heather Cruttenden said: "I enjoy the watercolour painting sessions – it brings back fond memories of when I used to paint at home so I am happy that I can continue this at Regent."
Fellow resident Dorothy Jones agreed: "I really enjoy painting and craft activities; I like being creative!"
The Sanctuary Care home's activities leader Bridie Ruff said: "We really wanted to come together to show our support and help raise awareness during World Alzheimer's Month as it's a cause so close to our hearts, and seeing the number of beautiful forget-me-not flowers around the home already it's clear that we are doing just that!
"Understanding of Alzheimer's and dementia is vital and we hope by raising awareness more and more people will try to understand what life is like living with dementia and Alzheimer's, and where needed reach out to the support networks that are readily available within the Worcester community."
World Alzheimer's Month is the international campaign every September to raise awareness and challenge the stigma that surrounds dementia.
September 2018 marks the eighth World Alzheimer's Month since the launch of the campaign back in 2012.