A man's best friend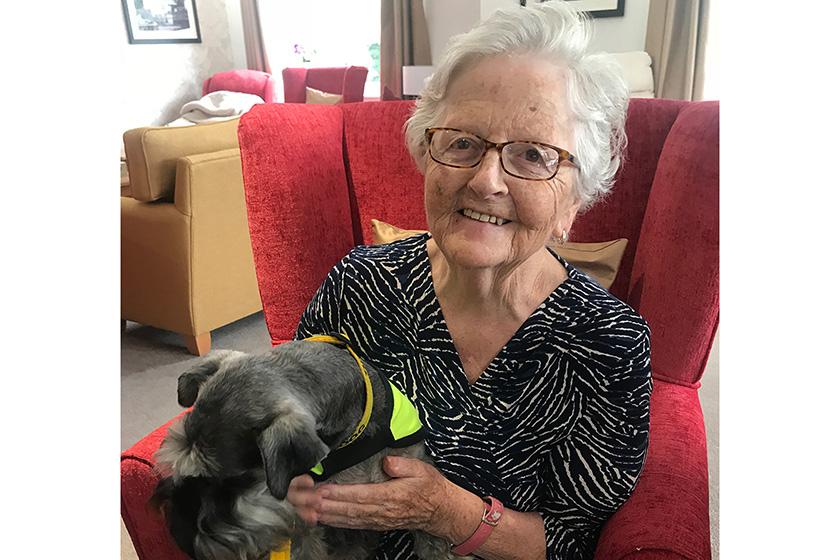 Residents at a Sanctuary Care home in Pensby, Wirral have been spending time with a visitor of the four-legged variety during World Alzheimer's Month (September).
Bramble, a miniature schnauzer from Therapy Dogs Nation, visits residents at Ridgewood Court Residential Care Home in Ridgewood Drive every week. She was such a huge hit on her first visit, she has be coming back ever since.
Interacting with animals is becoming increasing recognised as a therapeutic activity for care home residents, including those living with Alzheimer's, as they provide a great source of comfort, companionship and motivation.
The Sanctuary Care home's activities leader Ashlea Kelly said: "Animal visits are extremely thought-provoking and can bring back many happy memories, as well as being incredibly relaxing for all of our residents."
83 year-old resident Jean Kostiuk (pictured) said of Bramble: "She's so lovely, I love seeing the smiles she brings to everyone's faces."
Fellow resident Ethel Wignall says "Bramble is very good, she is so calm and placid. My husband and I always had dogs, so it's especially nice to have them around my home again. They're the only things I had that did as they were told!" Ethel's daughter, Jean, laughed and shook her head at this remark! 
Ashlea continued: "Bramble is so popular and all of our residents just adore her. Their eyes light up whenever they see her and the joy they get from spending time with her is so wonderful to see."
World Alzheimer's Month is the international campaign which takes place every September to raise awareness and challenge the stigma that surrounds dementia. September 2018 marks the eighth World Alzheimer's Month since the launch of the campaign back in 2012.
Ridgewood Court, which provides residential and dementia care, offers a host of activities to support people living with Alzheimer's and other forms of dementia, from tailored exercises sessions to hosting Dementia Friends sessions for loved ones.