Care home residents in Harrow enjoy animal therapy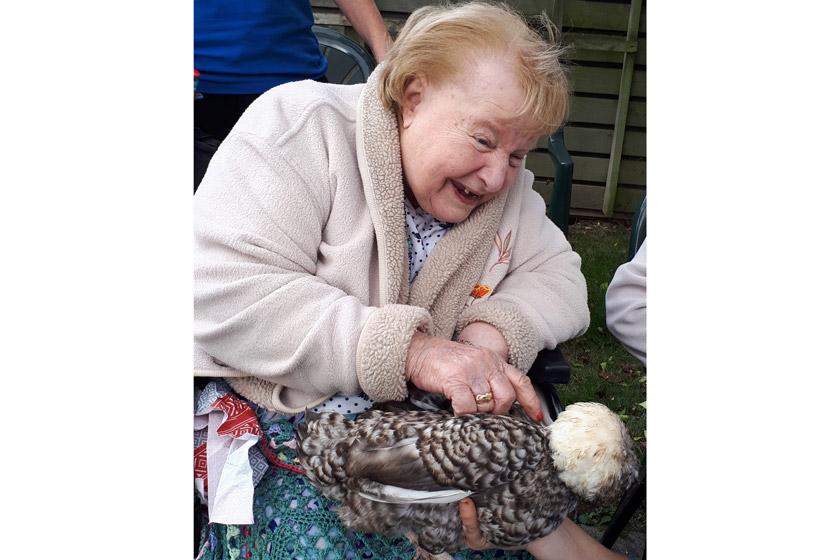 There was animal magic in Harrow when a Sanctuary Care home received a visit from a collection of lovely farmyard animals.
Rabbits to a Shetland pony
Gorgeous rabbits, chickens, pigs and even a Shetland pony were the star attraction at Rowanweald Residential and Nursing Home when residents enjoyed a spot of animal therapy.
Getting up close to the four-legged and winged friends, residents and the team, who provide residential care, nursing care and dementia care, held and stroked the much-loved animals from Miller's Ark Animals – who provide mobile farm experiences.
Residents loved all the animals
99-year-old resident Doreen Fosker (pictured) said: "Oh I loved all the animals, it was wonderful how they brought them to you. I loved holding the polish chicken and seeing the pony."
The Sanctuary Care home's activities leader Elaine Rivers said: "The team from Miller's Ark Farm were amazing with our residents. All the animals were so gentle and loved to be handled. There were smiles all round and plenty of cooing. It was priceless."
Benefits of animal therapy
Animal-assisted therapy is proven to promote wellbeing, increase social participation and particularly benefit those who live with dementia.
Among other benefits, stroking them can reduce blood pressure, have a calming effect on the mind and ease anxiety.
Elaine continued: "Animal visits are extremely thought-provoking and can bring back many wonderful memories and the visit from Miller's Ark Farm did just that."  
About Rowanweald
Rowanweald is an attractive care home situated near Aldenham Country Park and the centre of Harrow.
Designed with the usual comforts you'd expect, including large and airy lounge and dining areas, a courtyard garden and cosy bedrooms, Rowanweald is a true home from home environment.
The care home's team, who delivers care with kindness, is on-hand 24 hours a day, every day of the year.
There is also a dedicated activities team who supports residents to take part in interesting activities, rekindle old pastimes and try new things.
Along with animal therapy, other regular activities on offer include everything from reminiscence sessions, gardening, arts and crafts, live entertainment and so much more.
The home's residents also help host regular themed community events throughout the year. To find out when the next community event is please call the home's team on 0208 424 8811.