Peter from Ilford celebrates prestigious award shortlisting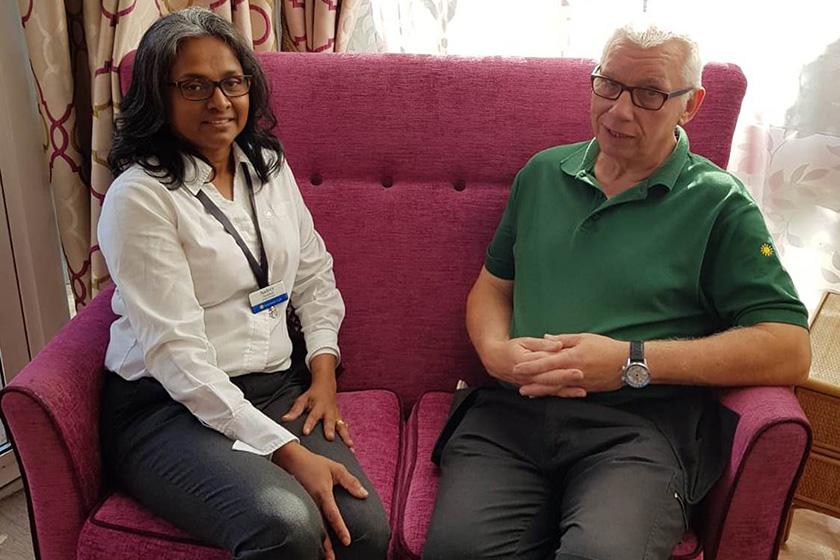 An inspirational maintenance assistant at a Sanctuary Care home in Ilford is over the moon after being shortlisted as a regional finalist in the Great British Care Awards.
Peter Young, of Birchwood Residential Care Home in Clayhall Avenue, is in the running for The Ancillary Worker Award in the London regional heats of the prestigious awards next month.
The accolade celebrates individuals who deliver an excellent, person-centred service while promoting dignity and respect.
"So heart-warming to be nominated"
Peter, who has worked at Birchwood for over 11 years said: "At first I was so overwhelmed but now it has all sunk in I find it so heart-warming that the team and residents wanted to nominate me. It is all very touching."
"I have been a part of the Birchwood family for so long now that it is my second home, everything I do is for the team and the residents. It is the people that make everything so worthwhile; I couldn't do enough for them."
Speaking about how he would feel if he won the award and went through to the national finals, he said: "Oh there would be a lot of celebrating, it would be fantastic! I can't even think about that yet as I am still over the moon to be shortlisted."
Everyone at Sanctuary Care is fully behind Peter
Home manager Audrey Parathan added: "We are all so proud of Peter, he really is a wonderful man and does all that he can for everyone in the home – nothing is ever too much trouble and as a home manager I couldn't ask for anything more. He thoroughly deserves this recognition and everyone at Sanctuary Care is fully behind him."
Peter's nomination also highlights how he dedicates his time to gardening with residents, while also supporting trips out or activities on his day off.
Celebrating excellence
Peter has met with judges face-to-face this week and will attend a black-tie awards ceremony in November with his colleagues from Sanctuary Care.
The Great British Care Awards – London, is a regional heat which celebrates excellence across the social care sector, paying tribute to those individuals who have demonstrated outstanding excellence within their field of work.