Happy 100th birthday to victorious Victor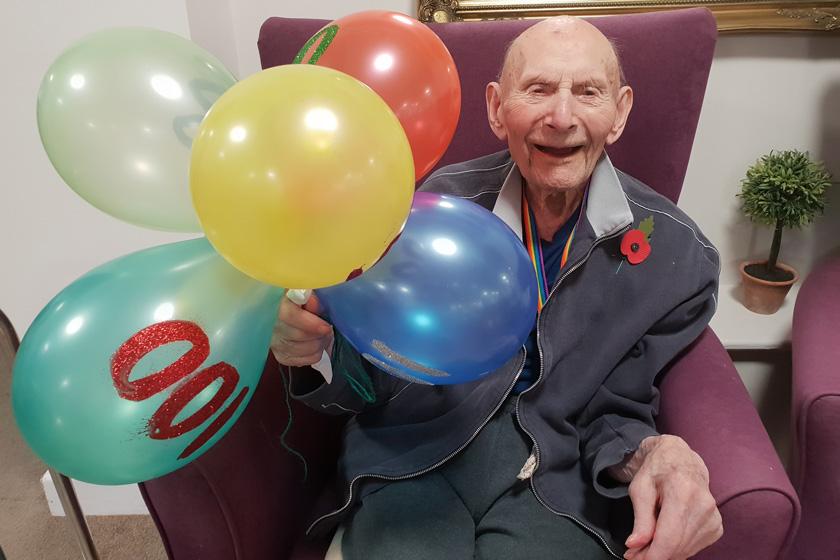 A Sanctuary Care resident, who was born one day after the First World War ended, has celebrated his 100th birthday.
Victor Bulpitt, who was named Victor in honour of the victorious end of the war, celebrated his 100 years yesterday (12 November) with a party at Basingfield Court Residential Care Home in Huish Lane, where he has lived the last four years.
Secret to reaching 100 years
When asked what his secret was to reaching 100-years-old, Victor said: "No secret really, but I have always worked hard and had a real passion for music. Life without music would be very dull."
Born and bred in Sherfield-on-Loddon to parents Maud and Arthur, Victor grew up in a busy household with five older siblings – two brothers, Bob and Cecil, and three sisters Wynn, Phyllis and Hilda. His mother was a housewife, taking care of Victor and his brothers and sisters, while his father Arthur was a farmer.  
After his academic years at Sherfield Church School, Victor's first job was working at Brahms Mill at the age of 14, where he looked after the pheasants for just £1 a week.
Serving during the Second World War
Following in his father's footsteps, he later went onto work for a farmer where his main responsibility was to catch the rabbits, until he was called to serve with the militia for seven years during the Second World War.
During his line of duty, Victor served in the Isle of White and also Germany.
Celebrating his birthday, one day after Remembrance Sunday, Victor said: "They were very long and tough years but I am proud of the time I served in the army."
In his later years, Victor and his brother Cecil joined forces to run their own painter and decorator company.
Dedicated to family and music
Never marrying or having any children, Victor was always close to his siblings – he lived with his brother Bob after his parents passed away and has always been a dedicated uncle to his nieces and nephews.
Along with his love for his family, Victor also has a real love and passion for music (and Reading Football Club)! In his younger years the centenarian used to enjoy attending local dances and has always enjoyed to sing.
Victor added: "I can easily spend my whole day singing."
Sanctuary Care proud to be celebrating with Victor
The Sanctuary Care home's activities leader Tracy Mercer concluded: "Victor is a lovely man, he is always smiling and always singing – he has a truly beautiful voice. He is such a big part of the home and we are over the moon to be ringing in his 100 years with him and his family."
Celebrations include live entertainment from Gareth Morgan, who will be performing all of Victor's favourite songs, and special guests include members of St Michael's Church and children from Old Basing Infant School.