Yarnton residents celebrates her 104th birthday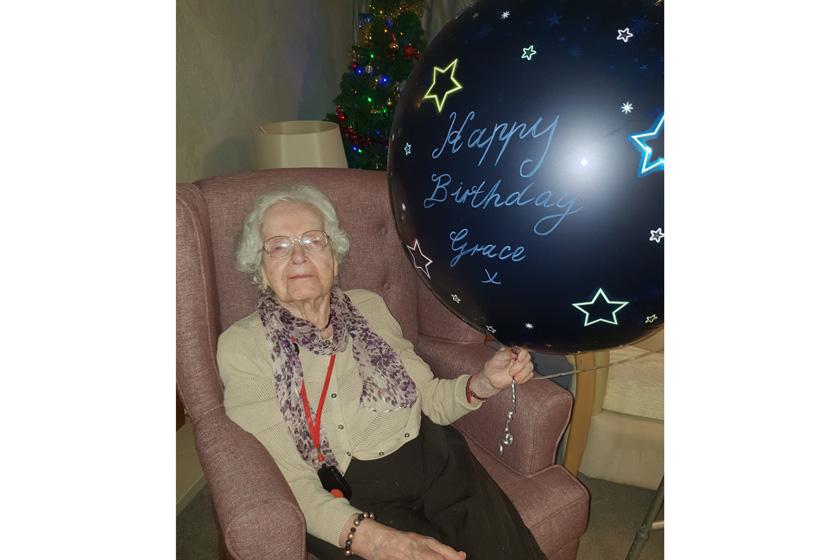 A Sanctuary Care resident in Yarnton had double the reason to celebrate as she turned 104 on the penultimate day of the year.
Born on Wednesday 30 December 1914, Grace Florence Martin celebrated her 104 years with a family party at Yarnton Residential and Nursing Home in Rutten Lane, where she has called home since November 2017.
When asked what her secret was to reaching 100-years-old, Grace said: "I've always had a positive outlook on life and kept myself busy."
Grace hasn't always called Yarnton home, she was born over 4,700 miles away (shortest UK flight route) in Vancouver, Canada to parents Mabel, a housewife and George Brown, who was a book-keeper. The birthday girl and her two brothers, Roy and Reg relocated to the UK when she was just 11-years-old.
From Vancouver to Croydon, Grace soon settled and after around a decade on UK soil her life changed forever when she met Leslie in 1940, before marrying in 1946 when Clement Attlee was Prime Minister.
Along with finding love, she also forged an impressive career in the nursing sector, where she became fully trained as a registered nurse in mental health and general nursing. She also worked in the psychiatric hospital during the Second World War.
Describing what it was like being a nurse during the war time, Grace added: "It was such hard work but I thoroughly enjoyed it and I've always loved to care for people."
Grace and her husband raised their family in the county of Surrey and the pair went onto have one daughter called Jennifer, who now resides in Long Crendon in Buckinghamshire.
Grace moved to Thame in the 80s to be closer to her daughter and joined all the local clubs, including playing the piano until she was 99-years-old.
The family has now blossomed to four generations with Grace having two grandchildren and one great granddaughter, aged six-years-old.
Jennifer said: "My mother has always cared for people and I have countless wonderful memories. She has always been there for me and it is so wonderful to be here today celebrating her centenary."
"We are all so proud of her, she has never stopped. At 90 she was still helping to run old people's clubs and she was living independently until late 2017, she really is remarkable. She has always been so positive and she is so dear to us all. Happy birthday mum!" 
The Sanctuary Care home's manager Sara-Jayne Harvey concluded: "Grace is a lovely and delightful woman, she is always smiling and you would never think she was 104 years old. She is such a big part of the home and we are over the moon to have celebrated such a milestone birthday with her and her family."