Sanctuary Care rally behind the Rainbow Trail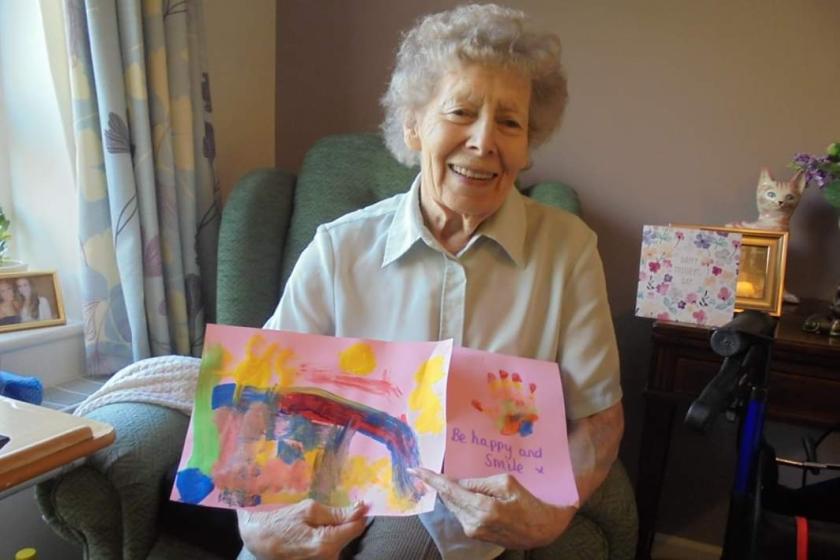 The Rainbow Trail, a social media campaign, is seeing children of all ages and families across the UK decorating beautifully bright rainbows to brighten up their windows. The aim is simple, to spread joy and happiness during this uncertain time.
And not to miss out, our fabulous residents and their supportive teams have been getting a slice of the action. Find out how we've been busy chasing the rainbow…
Chasing the rainbow across care homes in Worcestershire
First stop on Sanctuary Care's Rainbow Trail was at a care home in Redditch, where our residents at Brambles Residential Care Home received a beautiful surprise through the post from their fond friends.
Before we closed our doors to all non-essential visits, our residents enjoyed many visits from children at Ragamuffins Day Nursery, who are situated just next door to the home. And to show our residents, the youngsters were still thinking of them they decorated beautiful cards adorned with bright rainbows, with the messages "be happy and smile".
The cards didn't only just brighten up our windows, but even raised countless smiles, especially for Elizabeth Gittins who is proudly showing off her card (pictured above).
But the rainbow didn't stop there!
This time it was our residents at Westmead Residential Care Home, a care home in Droitwich, who rolled up their sleeves to create a vibrant rainbow banner in honour of the unsung heroes in the NHS and across our care homes.