Still going strong at Sanctuary Care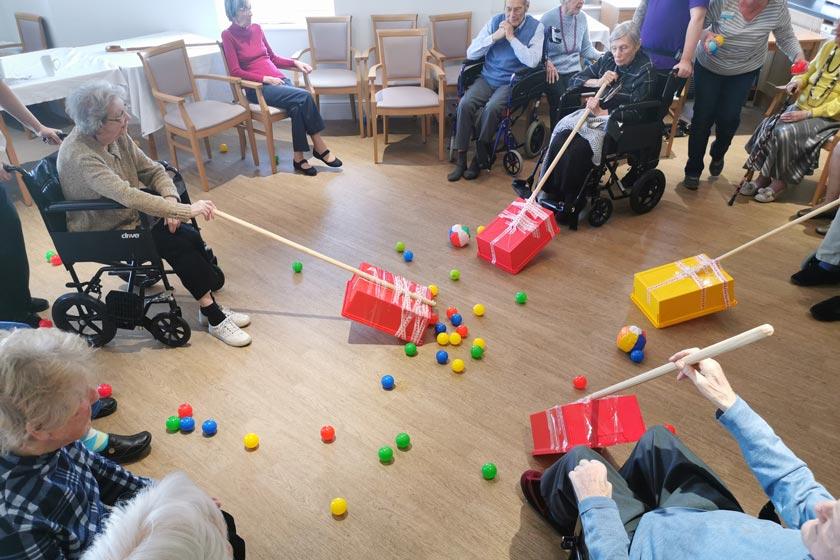 Our dedicated teams and our fabulous residents are staying strong here at Sanctuary Care. We are still remaining positive, spreading messages of hope and doing what we do best – sharing smiles and creating meaningful moments.
Starting with creative care home activities
All our care homes have been coming up with a variety of imaginative activities for residents to enjoy while they are naturally missing loved ones.
And a real highlight this week included a fun game of Hungry Hippos, which didn't just raise an abundance of giggles but also encouraged light movement so was good for the heart and joints too.
At Ridgewood Court Residential Care Home, our care home in Merseyside, our fabulous residents took part in a real life game of Hungry Hippos – using boxes on sticks to 'gobble up' as many balls as possible (pictured above).
Our activities leader, Ashlea Kelly, said: "We're all staying very positive and there have been plenty of laughs and smiles, from both staff and residents during this current situation."
Waving the flag for keyworkers
Loved ones of Heathlands Residential Care Home, our care home in Pershore, have done a great job for waving the flag for all keyworkers.
Relatives Charlotte and Jo dropped off a beautiful homemade thank you sign, along with some delicious treats, to the team at Heathlands.
The sign thanked all keyworkers, from our dedicated teams to the NHS, as well as 'posties', farmers and teachers. 
Our team were so moved to receive such a thoughtful gift and are now proudly displaying it from one of our windows for the whole community to see.