Sanctuary Care's Senior Management Team show their support to carers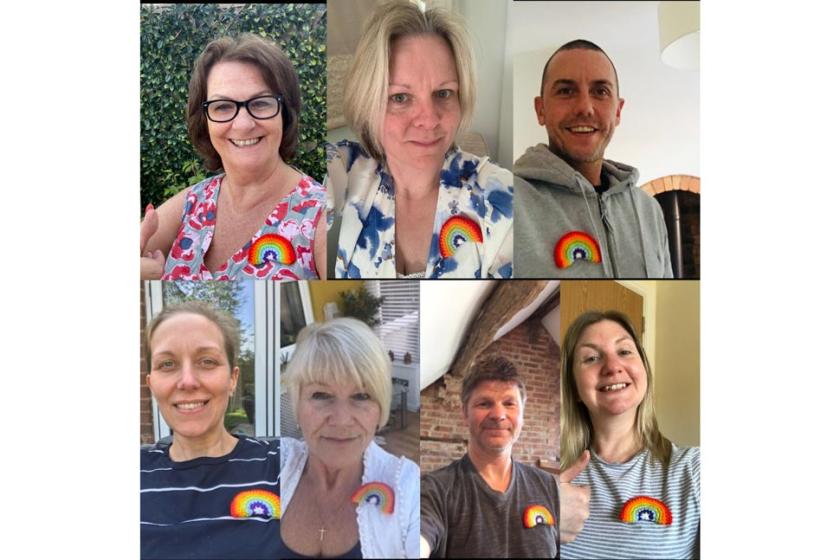 Sanctuary Care's, Senior Management Team (SMT) are doing everything they can to support our teams and show their gratitude at this time.
Including supporting our Badge of Hope drive
Our Badge of Hope is our crocheted rainbow pin to recognise the hard work of our care home staff – our very own heroes!
The Badge of Hope was originally designed and made by Ann Waterfield, Receptionist at Redhill Court Residential Care Home, a care home in Birmingham – and has since been recognised as Sanctuary Care's Badge of Hope.
Our SMT have been proudly adorning their pin ever since the Badge of Hope drive was launched, including when they take to the doorstep to Clap for our Carers every Thursday night.
Sheila O'Connor, Director of Operations - Care, said: "I can't put into words how proud I am of our operational teams. When I wear my rainbow Badge of Hope, I think of every single one of them – every carer, nurse, admin, receptionist, activity leader, domestic, chef, gardener, maintenance operative, deputy and home manager. They are enriching lives and making our residents, colleagues and nation proud."
Find out how to show your support and make your very own Badge of Hope, complete with full instructions.
Join in the conversation
To read more inspiring highlights like this, find us on Twitter and Facebook and join in the conversation with #EnrichingLives