Inspirational Betty is sharing her Covid-19 story to offer comfort to others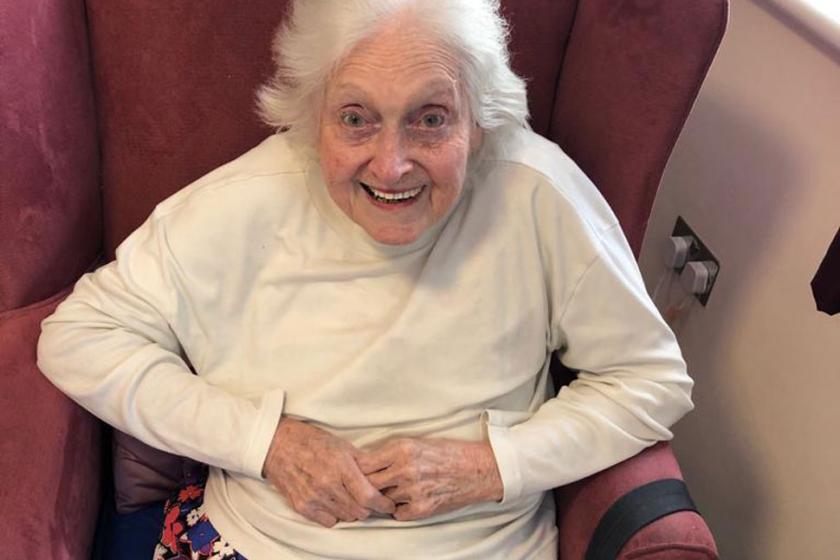 88-year-old Betty Ashburner, a resident at Sanctuary Care has always believed everyone should be "staying alert, remaining calm and keeping our spirits up" throughout this crisis, and her personal mantra hasn't faltered.
Betty shares her story:
Betty, a resident at The Manse Residential Care Home, a care home in London,  explained: "I had already heard about Covid-19, I was aware this was the time to be vigilant, but also not the time to panic. If I'm really honest, I never thought I would have to face Covid-19 but I did, and it all started with a cough.
"I had a cough for about a week until I was seen by a GP, who thought it was a chest infection as no temperature had developed. But come week two my cough soon turned into a high temperature. I was already at this stage self-isolating as I was showing mild symptoms, but I was still happy as I felt safe - and I definitely was not panicking. But things did quickly change.
"My cough and temperature remained but after full two weeks, it suddenly got more serious. It was as if someone suddenly hit the switch and everything became so much harder, especially my breathing. I was breathless, my chest was tight, and I felt really unwell, it's as if my lungs were in a knot.
"But I tried not to overthink it and I took each hour and day as best I could with the support from the team here - they checked on me regularly, wearing their PPE and even though I couldn't see their smiles, I knew they were there, and it was so reassuring every time they came to see me. They supported me to remain as calm as I could. I was thinking that time would be a healer and in a couple of days I would just be waiting for isolation to be over. But sadly, it changed yet again."
Rushed to hospital to continue the fight
Betty continued: "One particular night my breathlessness made it almost impossible to breathe at all and an ambulance was called right away. It all happened so quick but the next thing I know I'm being advised I had to go to hospital, there and then. I really didn't want to go to hospital, I felt safe at The Manse, I didn't want to leave here and the people I knew but the staff here explained it was the best place for me and the next thing I know, I'm there."
Betty was rushed to Croydon University Hospital, where she was tested positive for Covid-19 on admission – The Manse Residential Care Home had been treating her as a Covid-19 patient but were waiting for the test results to arrive.
Betty continued: "I spent 12 full days in hospital being treated with oxygen to support my breathing, it was such a low time for me. The nurses were amazing but being away from my home and unable to see any of my friends or the team was so hard – I was very poorly but incredibly lonely, and at times scared. I just kept thinking, remain positive and try to be calm and I'll be out of this place soon enough."
"But the 12 days did come to an end and I was discharged and allowed back home – back to my safety bubble." shared Betty. "Even though I still didn't feel 100 per cent, I knew the biggest hurdle was behind me and it was an extremely comforting feeling.
A hero's welcome
"Once home, I was greeted in reception with the most amazing welcome. All the staff were clapping and cheering for me, I felt very emotional. It was the sudden reminder that I was never alone in this when I was away from The Manse. I felt so loved that everyone was rallying behind me."
 "I continued to remain in isolation for 7 days which was the perfect place to get back on my feet again – it really was a case of building my strength up, the simplest of tasks felt so tiring to do but the beautiful team here cared for me amazingly. They sat with me, checked I was okay in myself, along with the usual checks to see if I was eating and drinking, and making sure I had everything I need."
Betty is now Covid-19 free and has returned to her best, going back to the same care needs she required before contracting the virus and continuing to enjoy the things she loves.
"I wouldn't have got throughout it without the team at The Manse"
She concludes: "I'm ever so thankful to recover from Covid-19, but it wasn't just a personal battle. I wouldn't have got through it without the care and attention of the lovely staff around me. Together we were alert and always calm, even when I was scared - I never panicked as I was always in the very best of hands."
Home manager Veronica said: "Betty is an inspiration – at a time that was extremely emotional for her and her family, she wants to share her story to comfort others by showing that in all the tragedy of this virus there are glimmers of hope for us all.  Here at The Manse we have so much admiration for Betty and I'm proud to have been there for her, with my team, to enrich her life at one of her darkest hours."