Tony talks about moving into a care home during the global coronavirus pandemic.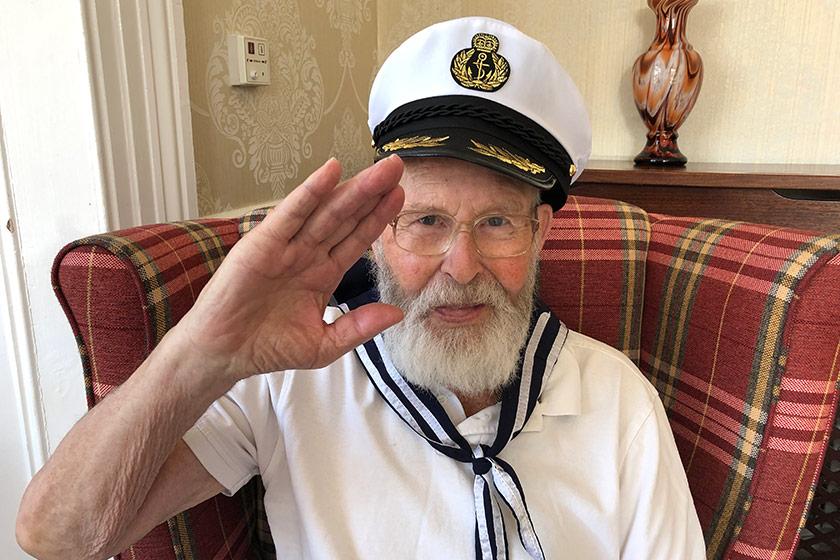 Tony is one of many new residents who have moved into a Sanctuary Care home during the global coronavirus pandemic. He talks us through the experience of having to self isolate in the home, how he felt safe and reassured and the amazing care home team who kept his spirits high and helped him embrace his new life.
Tony's journey to becoming a resident at The Rosary Nursing Home, our care home in Bridgwater, Somerset, was not one he'd planned. He was visiting his daughter Lynne in Bridgwater when he suffered a stroke. Overnight he required nursing care and after careful consideration, Lynne and her sister Alison chose The Rosary, where they felt he would be happiest.
Feeling safe and reassured
Tony and Lynne self-isolated at home before he moved into The Rosary and self-isolated in his bedroom for the remainder of the 14 days. Alternatively new residents can self isolate in Sanctuary Care's homes for the full 14 days if they choose.
This was a strange experience for Tony, who was keen to get to know his fellow residents, but he understood it was essential to keep everybody safe.
"The staff really helped me to settle in, they were very friendly and caring," he explained. "I felt very safe and wasn't worried about coronavirus because the staff were in Personal Protective Equipment (PPE) all the time, which was reassuring.
"They popped in regularly to see me and have a chat, making sure I had everything I needed – and to pour me a brandy at the end of the day!"
Getting to know my new family
Once his self-isolation period ended Tony, like all new residents, was tested for coronavirus. It was thankfully negative, allowing him to come out of his room and meet fellow residents in his 'bubble'.
"It felt really good and I am now part of the family here," he added. "I have made some good friends, we get on so well and they are great fun. All the staff are excellent and I enjoy the food and trying new activities."
A particular highlight has been taking part in the home's 'virtual' cruise, where staff create virtual holiday hotspots from around the globe, right in the heart of the nursing home in sunny Bridgwater!
Home manager Natali Edwards said: "Tony has settled in really, really well, he is just the most amazing character and absolutely loves it here."
To read more about everything we are doing to ensure our residents are as safe as possible when joining one of our care homes, please see our ten steps to fully inform you.