I needed respite care during the global Covid-19 pandemic - Hear June's story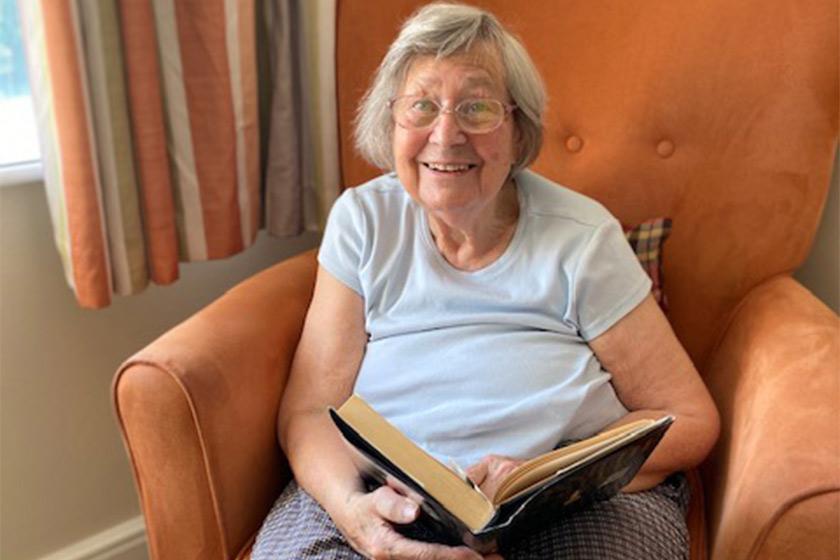 When June needed respite care following a fall, she was understandably anxious about moving into a care home during such strange and unprecedented times.
The team at Lake View Residential Care Home, our care home in Telford, quickly helped to put her mind at ease and the staff are helping her to rebuild her strength so that she is able to return home again.
June explained: "Before I went to Lake View, I was worried until I got there. I felt very safe - the staff always wear personal protective equipment (PPE) when coming into contact with myself and the other residents."
From self-isolating to making new friends
On arrival, like all new residents at the moment, June had to self isolate in her bedroom for a period of time, before having a coronavirus test.
She said: "I felt a bit nervous about mixing with the other residents, but the staff reassured me."
Very quickly June overcame her fears. She said: "I was sat with the other residents in the lounge area and I really enjoyed being around other people again and making friends."
"Being really well cared for"
June praised the staff at Lake View for helping her to feel so settled. "They are so lovely and very helpful," she said. "I feel I can ask for anything.
"The thing I have enjoyed the most is not having to worry about anything, having my meals cooked and being really well cared for by the staff."
June is now feeling nervous about returning home when her time at Lake View comes to an end but said she would love to return to the home for respite care in the future.
Home manager Michelle Cartwright said: "As soon as June's self-isolation period came to an end she made new friends so quickly. She is so chatty and sociable – she is very happy here."
If you would like to know more about the measures we are taking to ensure our residents are as safe as possible when joining one of our care homes, please see our ten steps to fully inform you.