Read Dorothy's respite care move story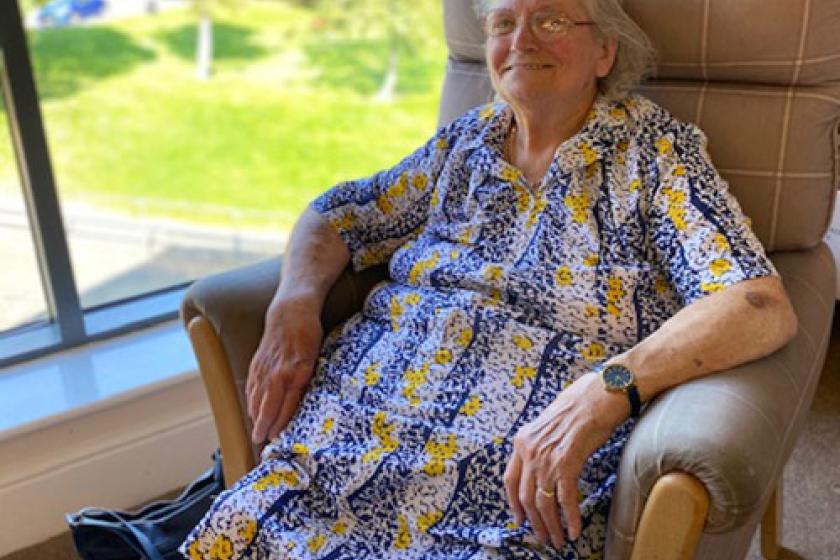 We recently welcomed Dorothy to Lake View Residential Care Home for respite care following the sudden death of her husband in March, as the spread of Covid-19 gripped the nation.
Dorothy initially moved in for short-term respite care to give her extra support following her loss. However, she has decided to move into the home permanently. She explains how she felt about self-isolating in her bedroom and talks about her experience so far.
The early days
Dorothy was not worried about self-isolating in her bedroom, as all new residents are required to do across Sanctuary Care's homes at the moment, before having a coronavirus test.
She said the team helped her to settle in and unpack, with endless chats and cups of tea!  
"I felt very reassured", she said. "They always wear PPE (personal protective equipment) and I am just glad I am safe".
The warmest welcome
Dorothy continued: "The staff do a great job and there is a relaxing atmosphere here. "They made me feel very welcome."
When she was able to meet her fellow residents, Dorothy found she made new friends very quickly and enjoyed taking part in activities.
"It's a great home, the staff are great, and the activities are very good – and the food is first class! I have enjoyed making new friends and staff are always here for you – we are always happy."
I am not going home, I love it here
Having settled into Lake View, Dorothy has made the decision to stay permanently. She said simply: "I love it here!"
Home manager Michelle Cartwright added: "Dorothy was planning to go home but she is really content. She has settled in fantastically and we are delighted she has decided to stay with us."
Our ten steps to fully inform you will give you more information about the robust process we are taking to ensure our residents are as safe as possible when moving into one of our care homes.