Alexandra's extra sprinkling of magic this Christmas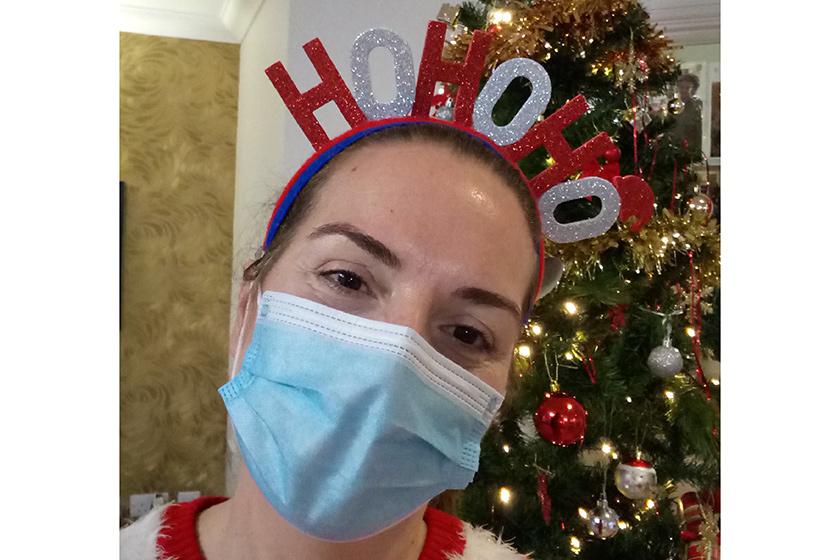 Since joining the team at Bartley Green Lodge Residential Care Home last February as a Care Assistant, Alexandra Mendez Girones' potential was noticed and she was soon offered the role of Activities Coordinator after supporting with the home's activities.
Alexandra said: "I really enjoyed getting involved in the activities as a Care Assistant and I was delighted to be given the opportunity to be Activities Coordinator at Bartley Green, bringing a different kind of joy and comfort to our residents."
Covid bringing us closer
Compared to last year things have changed quite a lot in the world of care home activities. Alexandra has been "busier than ever" during the pandemic, ensuring residents have an exciting and varied timetable of activities. She explains: "Due to Covid-19, we have not had any visitors or entertainers in the home, so I have been busy finding lots of alternative entertainment to make up for this, including accessing online shows and events.
I have become even closer to the families and as a team, we work hard to make sure they feel connected and close to loved ones through lots of communication.
Staying connected
Alexandra and the team at Bartley Green have made sure families feel involved in daily life by setting up a WhatsApp group and sharing updates of what's happening in the home, she explained: "I have great relationships with the families of our residents and the pandemic has only improved this. I regularly send updates on daily activities including videos, pictures and what's going on at the home that day. It's been a great tool to communicate with families during this time." The home also uses other ways to communicate such as Facebook, Skype and Facetime.
Mental wellbeing and music
"I love making the residents happy" says Alexandra, "seeing them smiling and having fun". The residents have nicknamed her 'the keep fit teacher' she explains further: "When I come in of a morning they know something fun is going to happen and the residents enjoy the keep fit classes to kick start their day. Staying physically active and getting involved whatever your ability is so important and supports their mental health as well."
The importance of music cannot be underestimated as a way of bringing joy and connecting with residents as Alexandra found out: "I did some training through work and came up with an idea of asking all the families to say a song that their loved one enjoys that would bring back happy memories."
From this came a play list for the residents that Alexandra said was received "really positively". She goes on to explain: "I have a female resident who loves music, dancing and singing. I played her Nat King Cole and she started crying and singing along. I asked why she was crying and she said she was happy and so thankful to hear this song. She said it brought back wonderful memories of her brother who was in a band and of singing and dancing as a family at home."
It's this kind of person-centred care through activities that makes Alexandra so good at her job as manager Leanne shares: "Alexandra always goes above and beyond for our residents, finding out who they are and what they enjoy. She has played a really important part in helping families stay connected and feel involved as well as keeping residents active in the home during a difficult year."
Bringing extra joy this Christmas
Bartley Green like our other care homes is throwing some extra sparkle this Christmas with Alexandra organising daily festive activities with the help of the residents, with opportunities for family and friends to join in virtually this year. She says: "We love music, we love to party, we love a good laugh and always have fun. I love seeing the residents get involved and can go home every night feeling proud, knowing I am making a difference to their lives."
Find out more about how our amazing teams are supporting residents to celebrate Christmas here.