Respite care gave us space to relax during the pandemic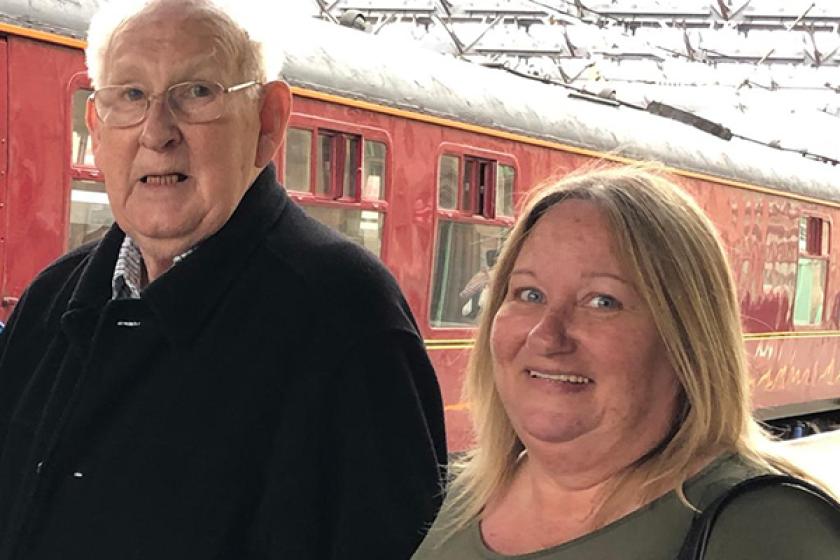 Margaret Sheriff and her husband Martyn are the sole cares for father Keith, who lives with them and has advanced vascular dementia.
They'd previously used other homes with different care providers for respite care breaks, but weren't happy with the standard of care and Keith would come back distressed, so they stopped looking.
When the first national lockdown came, Keith was suddenly confined to the house, where the couple were working full time due to the restrictions.
Speaking about her role as a carer, Margaret said: "There are frequent sleepless nights. He doesn't remember anything and it's heart-breaking. We do everything for him, and it puts such a strain on you – and then there's the extra pressure of us both working from home. I love dad to bits, but you can't put the time in with him that he needs."
Our virtual tour – we felt very reassured
In June the pressure became too much and they discovered Yarnton Residential and Nursing Home in Oxfordshire. Margaret had given up on finding somewhere that she felt comfortable leaving Keith. However as soon as she spoke to Home Manager Sara-Jayne she felt at ease and booked a virtual tour, enabling her to 'view' Yarnton and ask any questions she had.
"It was very strange to view a home through a virtual tour, but I felt very reassured," she said.
To view a home through a virtual tour like Margaret, you can call our Enquiry Support Team advisors today on 0800 917 0478.
Margaret was so happy with the care; Keith has already had three further respite breaks during the pandemic. He's also had his Covid-19 vaccine as part of the home's vaccination programme, providing the family with that extra peace of mind that he's safe.
Exceptional standards of care
Margaret said: "The staff are very caring and look after dad exceptionally well, and he always enjoys himself. I can't think of anywhere better to send my dad for respite care. They are so accommodating and the communication is exceptional."
She said the team also supports them as a family, adding: "I suffer from depression and when Sara-Jayne calls me, we have a chat and she is always so lovely. She is a phenomenal, amazing lady, so kind and caring. They are almost like friends who you can talk to about anything – not just dad. They care about us too and show such empathy."
Keith's respite breaks are a wonderful way for the couple to recharge their batteries with a well-deserved rest.
Margaret said: "When he goes there for the first couple of days I'm a bit lost, but after that you almost feel relieved because you can relax again – it's a different world."
Considering permanent care for the future
Despite desperately wanting to keep her father at home for as long as she can, Margaret knows this may not be possible.
"I know at some point in the not too distant future we will need to see where we go from here – if dad goes into permanent care, it will be at Yarnton.
"I love my dad to bits, and I want him to be looked after as we would look after him at home – so I would recommend Yarnton to everybody."
If you are in need of respite care, or simply want to talk to someone about care options for a loved one, our Enquiry Support Team advisors are here to talk on 0800 917 0478. Alternatively you can email care.hub@sanctuary-housing.co.uk or join them using the Live Chat icon on the website.