Edna shares her story for National Apprenticeship Week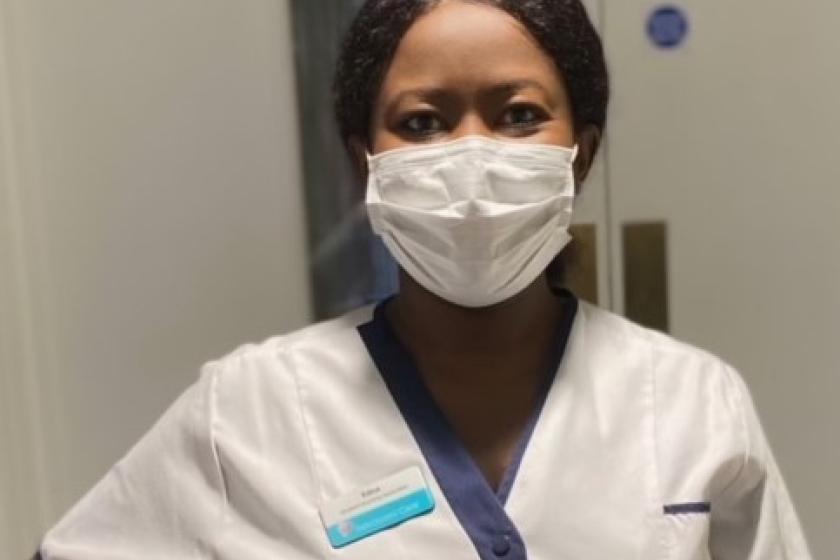 During National Apprenticeship Week, we shine a spotlight on one of our Nursing Associate apprentices Edna Ankrah, who works at our Riverlee Residential and Nursing Home in Greenwich.
Edna explains: "My interest in being a Nursing Associate began while I was working as a care assistant in a residential and nursing home. The satisfaction I gained while caring for the elderly inspired me to pursue this, because I realised I enjoy caring for others. I would like to look after people, those who are ill and support them until they are better.
I was excited when I heard about the nursing associate apprenticeship programme. I decided to attend the programme session. After hearing more details about the programme, I decided I wanted to take the opportunity. And I am currently completing an Fdsc Higher Nursing Apprenticeship Level 5.
At the start of the course, I thought it was going to be easy, but it got to a time during the course I became worried about whether I would be able to pass all my exams and assignment. But with hard work and determination, I have completed my exam and assignments so far. I am getting work experience as well as learning new skills from health professionals.
Any colleague who is thinking of starting an apprenticeship, go for it!
What have I learnt?
I have gained new skills, knowledge, and experience from taking part in the apprenticeship programme. In particular, one of the modules is focused around the human body. I have learnt the biological processes that occur in the human body and why they are in place to be able to explain to residents why they are getting their treatment.
Another module was around medicine management, I was able to learn how to calculate drug dosage accurately when administrating drugs to residents, looking out for vital signs and the correct way to do it.
I work alongside a Registered Nurse at the GP surgery on my placement, which has enabled me to take part in diabetic reviews, along with having the opportunity to go out with the pharmacist for patient medication reviews. I learnt why reviews needs to be done so they can decide to increase the dose or stop the medication. I was supervised by a Registered Nurse while administrating vitamin b12 injection.
My future plan is after I qualify as Registered Nursing Associate, I have the option to train as a Registered Nurse, but I will continue to work for Sanctuary as a Registered Nursing Associate for some few years. I will also love to encourage and assist new student Nursing Associates."