Glyn's incredible journey to mobility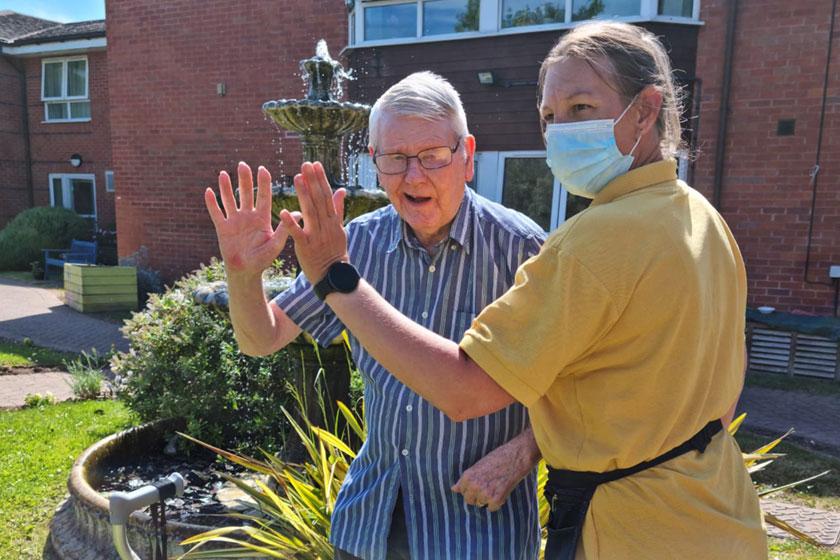 When Glyn James moved into Sanctuary Care's Regent Residential Care Home having suffered a stroke, the left hand side of his body was seriously affected and he used a wheelchair to move around.
Activities coordinator at the St John's home in Worcester, Becki Goodyear said Glyn's self esteem was very low.
With some gentle persuasion Becki, who was a personal trainer in her former career, convinced Glyn to try some one to one training with her. And the rest, as they say is history. The progress Glyn has made has been phenomenal – he has now abandoned his wheelchair and walks around the home unaided!  Needless to say his confidence and wellbeing have soared!
Becki said: "I'm so proud of him I could cry. I'm hugely proud of how far he's come and how hard he's worked. He's like a different person now – it's so amazing to see him so engaged with the other residents."
It was a long process but the determined duo got there, quite literally one small step at a time.
After assessing Glyn's mobility and balance, Becki put a 12-week programme together, with the 84-year-old setting himself a goal of being able to walk unaided around the garden. He smashed this goal and so much more, now walking around the home independently with a staff member.
Becki continued: "We started with simple leg balances, squats and gradually he started getting stronger, with cardio and weights – even boxing movements!
"It's all down to his determination and hard work – I was just there to guide him."
Speaking about his journey Glyn said: "Becki has helped me a lot. I've done really well and I'm proud of myself. I really feel like I am getting somewhere."
Even though they have come this far the hard work will continue - Glyn will carry on working with Becki on his core, balance, general fitness and muscle strength too.
And it is not just Glyn Becki has helped. Using her skills she has supported other residents to make huge strides forward with their mobility.
For information about life at Regent call our Enquiry Support Team on 0800 917 0478.