Adefolake's pride as Nursing Times judge and awards presenter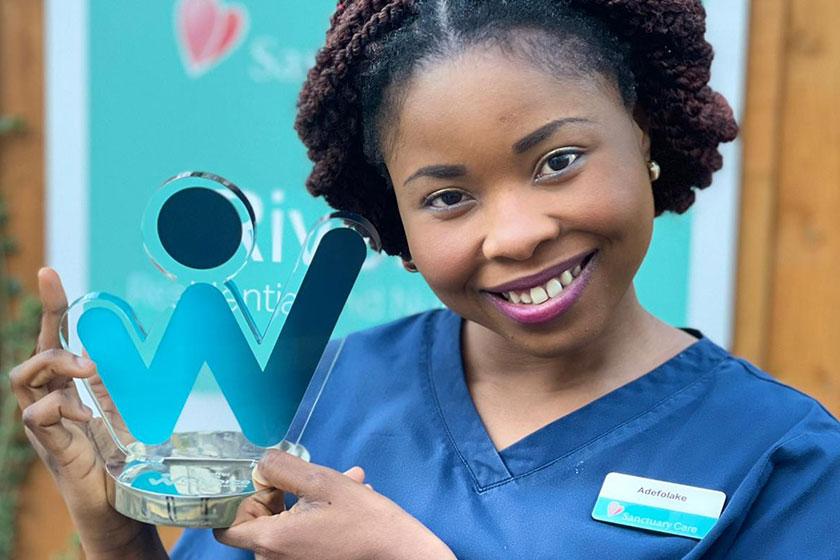 Our award-winning nurse Adefolake is beaming with pride after being asked to present a highly respected Nursing Times accolade that she won in 2020.
The devoted nurse, who has worked at our Riverlee Residential and Nursing Home in Greenwich for four years, was named Overseas Nurse of the Year in the Nursing Times Workforce Awards, and was over the moon to be asked to judge the category this year.
And the icing on the cake was being invited to present the award at the prestigious evening ceremony, taking place in London next week.
"It has been so exciting for me personally to have won the award and it feels like I am passing the baton to someone else, which is really lovely – and unexpected," she says.
"I never expected so much to come from this and it's overwhelming when I think about it. I'm really honoured to do this - and to get to meet the Overseas Nurse of the Year in person. When I read the nominations it was so inspiring."
Described by the judges who gave out her award as being a 'role model to all overseas nurses', Adefolake was nominated for the amazing support she gives to overseas nurses working for Sanctuary Care's London homes, on both a practical and emotional level.
Originally from Nigeria, supporting her colleagues from overseas is something she is deeply passionate about, with her nomination highlighting how she helped them to settle into a new life, find their way around the capital city and even devoted time on her days off to help them to prepare for exams.
For information about life at Riverlee of any of our other care homes, our Enquiry Support Team advisors are here to talk on 0800 917 0478.