Sophie and Lorraine – our inspirational award winners!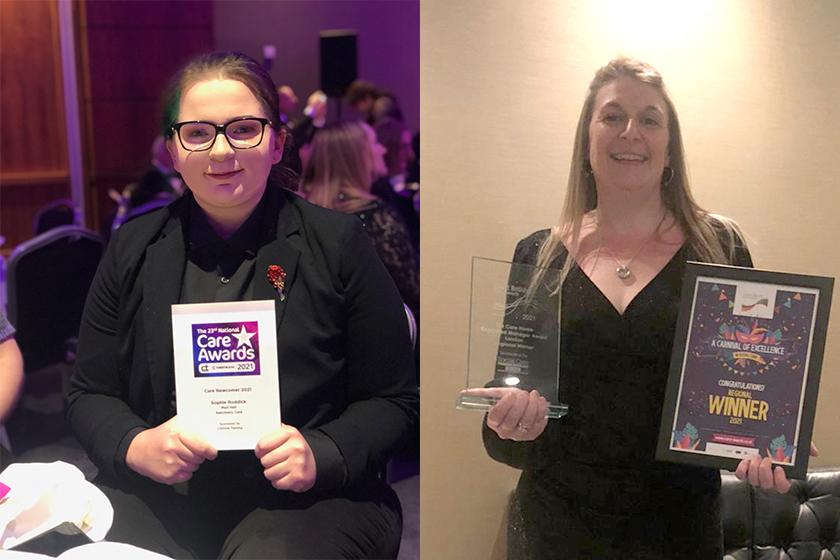 Two inspirational and devoted members of the Sanctuary Care team are celebrating after being crowned winners of prestigious care awards.
On Friday Sophie Roddick (pictured left), a care assistant at Mull Hall Care Home in Invergordon, won the Care Newcomer category of the National Care Awards in London.
Meanwhile Lorraine Pells (pictured right), of Parkview House Residential Care Home in Edmonton, won the Care Home Registered Manager accolade in the London regional finals of the Great British Care Awards.
Described an "angel" and an "inspiration" by colleagues, 21-year-old care assistant Sophie joined Mull Hall in June 2020.
Sophie's devotion has never been more evident than during the height of the pandemic, when some relatives of residents on end of life care were unable to visit because they were medically vulnerable. Sophie was there to take their place, long after her shifts had ended, providing comfort and companionship.
Following the awards ceremony she said: "I was so shocked when they called my name, it was such an amazing feeling to win. It's a real honour and I feel very proud."
Lorraine has devoting her life to Parkview House for 22 years, starting as a carer and becoming home manager seven years ago.
Her leadership inspires and motivates a team who are equally as devoted to enriching their residents' lives. She champions their personal development and is a huge emotional support to staff. To show her appreciation for the amazing job they do, she made goody bags for them – including those who were on furlough/long-term leave. Filled with everything from edible goodies to a poem she wrote, she did this out of her own money as a heartfelt thank you.
During the pandemic some staff were on long-term leave. Lorraine regularly checked they were coping with phone calls and gifts/notes. She felt this was important because they had one another for support at work, whilst their colleagues were isolating at home.
And knowing how important having their hair done was to some of her residents, she even turned her hand to styling when the home's hairdresser was unable to come in.
Lorraine said: "I am shocked that I won and am over the moon – I couldn't be happier. It was an absolutely lovely night."
In March Lorraine will go forward for the national finals of the Great British Care Awards, going head to head with category winners from the different regions.
For more information about life at Sanctuary Care, our Enquiry Support Team are here to help on 0800 917 0478.