We hope you enjoyed reading Richard and Peggy's story. We felt it was important to show people, who may be looking for a care home for a loved one, that they are not alone.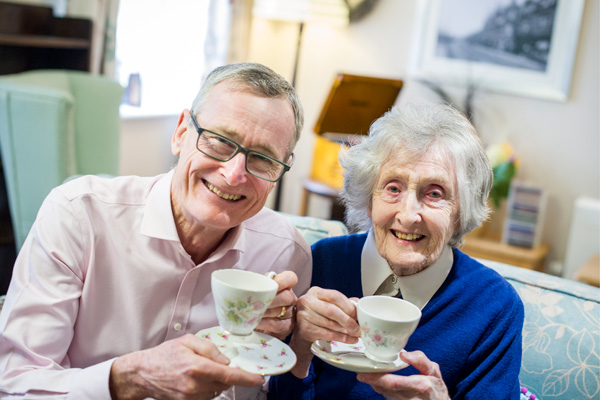 At Sanctuary Care we appreciate how hard it is to make the decision to move someone you love into a care home and then find a home team who you feel comfortable trusting with their care. That is why we are here to support not only our residents, but their loved ones too.
The most important quality we look for in our staff is kindness, because we believe our residents deserve to be treated like they are a member of our own family. And one of our most important values is delivering care that is truly person-centred. We do this by working with our residents and their loved ones to build a picture of who they are as a person and their life story, to ensure life in our care home is as enriching and fulfilling as possible.
Our homes have dedicated activities staff who create opportunities for our residents to try new things or rekindle favourite past times, as well as organising community events, like the tea party you can see Richard and Peggy enjoying in this photo.
As part of not-for-profit housing and care provider Sanctuary Group, we have over 100 homes throughout England and Scotland, providing a range of care including residential, dementia, nursing and intermediate care.
If you would like to find out more about your closest home then please visit our find a care home page.