Sanctuary Care is shining the spotlight on its amazing 300 volunteers as part of national Volunteers' Week.
Volunteers' Week is an annual event where people across the UK celebrate volunteers and the fantastic contribution they make to the people they give up their free time to help.
Volunteers' Week 2018 (1 to 7 June) is a very special celebration for Sanctuary Care, because it now has 300 volunteers in its homes across the country, who each spend their valuable time with its residents.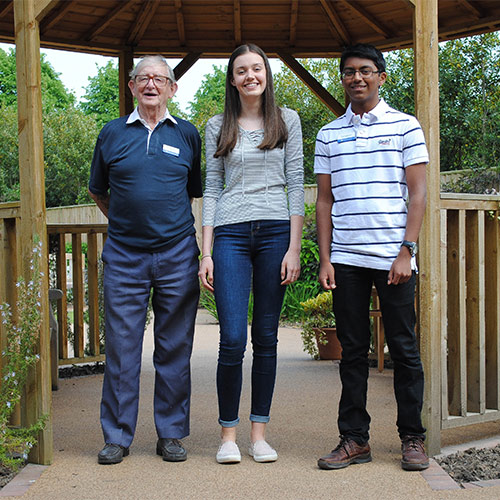 Neil Quinn, Sanctuary Care's Director of HR said: "We are thrilled to have reached this amazing milestone – to have 300 volunteers in our homes is a phenomenal achievement. They are completely diverse in their ages, backgrounds and interests, which is wonderful because so are our residents!
"We are enormously grateful and hope our volunteers find their experiences equally as rewarding."
Three of Sanctuary Care's 300, kind-hearted Eric Ashton, Katie Broster and Rohan Yesudian, all volunteer at its Upton Dene Residential and Nursing Home in Chester.
Eric, whose wife Joan has sadly passed away, is 80 years old and started volunteering at Upton Dene two months ago after popping in to visit a friend. He spends several hours every day at the home, tending to the gardens and spending time with the team and residents.
He said: "I thought what a glorious chance to give something back and I love it. It means everything to me. It's about having company and meeting nice people. We have a good laugh and that's what life's all about."
Student Katie, who is 18 years old, visits Upton Dene every week to take part in activities with the residents, such as arts and crafts and their 'fizzy Fridays', where they enjoy a glass of bubbles and nibbles to end the week. She also likes spending time doing individual one-to-one activities with the residents.  
At 17, student Rohan is Upton Dene's youngest volunteer and visits the residents every weekend to take part in activities with them, including games and quizzes.
The home's manager Dawn Smith said: "We are so proud to have Eric, Katie and Rohan with us at Upton Dene and want to shout about the amazing things they do – especially as it is Volunteers' Week.
"They are kind and extremely caring and make an enormous contribution to the lives of our residents in so many ways, especially helping us to ensure they continue to feel engaged with their local community. A heart-felt thank you from all of us at Upton Dene."
The achievement comes as a double celebration, as Sanctuary Care also celebrates its 20th anniversary of delivering care to its residents.
Volunteers' Week is a time to thank volunteers who make such a difference across our society, recognising the contribution they make by giving up their free time to help others.
If you are interested in finding out more about becoming a volunteer with Sanctuary Care, call our Work Programmes Coordinator Yunus Giwa on 07484 547035.