Aashna House Residential Care Home in Streatham Vale
2 Bates Crescent, Streatham Vale
,
London
,
SW16 5BP
---
Care home admissions during the Covid-19 pandemic
Safe admissions into our care homes includes the option for new residents to self-isolate in the comfort of their own home for 11 days, before joining us in the care home where they will be tested for Covid-19 and supported to self-isolate for 3 more days until the result of the test is known.
---
With stunning gardens, bursting with colour, our care home is in a very tranquil spot in Streatham Vale. Adorned with wisteria and with hedge-lined walkways, the gardens are a calm and relaxing haven, in the heart of London. Aashna House is a fantastic mix of both worlds and within these four walls is a home rich with Asian heritage and culture.
Our dedicated and caring staff speak several Asian languages, with every single member of our team fluent in at least one Asian language. This is so important to us, as we want our care home to be an inclusive and welcoming place that residents and their loved ones call home.
Religious festivals and celebrations
We also enrich the lives of our residents by supporting them to celebrate key dates and religious festivals from the comfort of their care home. For example, we capture the vibrant and traditional festivities in the Gujarati calendar, welcoming an array of dancers and musicians from across Croydon, Tooting, Wimbledon and London through the doors.  
These religious celebrations are especially magical for our residents living with dementia. They reflect the traditions they used to celebrate in their younger years, which can bring back heart-warming memories. They are also wonderful for engaging with residents and creating truly meaningful sensory experiences.
It is wonderful to see our loved ones join us for these special celebrations. We have a dedicated activities person who makes it all happen, thanks to their fantastic links with the Streatham Vale community. Whether celebrating Diwali, Eid, Baishakhi and Navratri or enjoying professional regional folk dances with traditional costumes, there is always something going on! 
It goes without saying that mouth-watering cuisine is a huge part of all our celebrations. Our talented catering team, who of course use separate kitchens for preparing vegetarian and non-vegetarian dishes, works with the freshest ingredients to prepare meals from scratch. From a variety of curries to traditional Indian savouries and sweet treats, mealtimes are a real highlight of the day, with flavours and smells that remind our residents of home.
Our residents also have kitchenettes in their bedrooms if they wish to prepare something themselves or spend time with loved ones when they visit.
Award-winning care home in Streatham Vale
Our traditional values are highly regarded, providing care with true compassion and dignity to meet all our residents' residential or dementia care needs. We also embrace and support their cultural and spiritual needs, ensuring the care we provide reflects these as much as their physical health requirements.
While to us this comes as second nature, our residents' loved ones are always overwhelmed at how we go above and beyond. So much so that many have taken the time to leave glowing reviews on carehome.co.uk – an independent review site for the care sector.
And all those lovely reviews certainly add up, as we were recently awarded a Top 20 Carehome.co.uk Award. We beat of some stiff competition to scoop the regional award – over 1,400 London-based care homes to be precise. As you can imagine we are extremely proud of this recognition as it is a result of reviews from the people that really matter - our residents and their loved ones.

Pre-bookable respite care in Aashna House
We now provide short-term pre-bookable respite care breaks for people needing residential, dementia and nursing care, so loved ones can plan a well-deserved break of their own.
For more information about the home, including our respite care options, please call 0208 765 0822 or fill out or online form. If you would be interested in viewing the home and speaking to a member of caring team directly, we are also able to offer virtual tours.
Stories from the home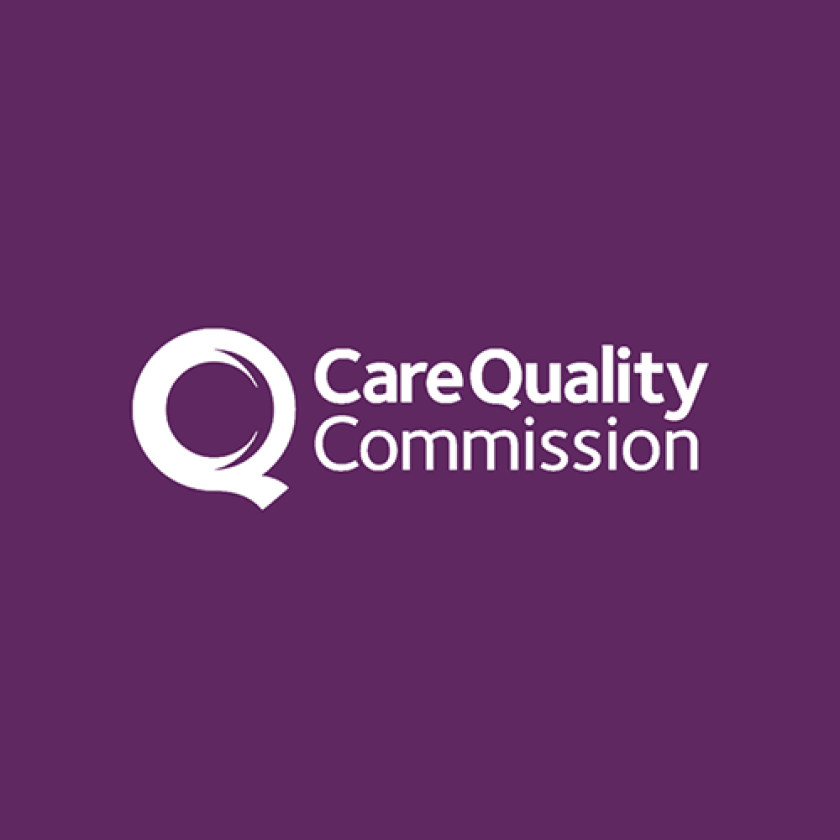 A loved one's review
"Aashna House has been a godsend. The manageress is highly experienced, professional and has a calm manner. Her team reflect this ethos, providing a kind, structured setting, with every member of her team bringing different strengths."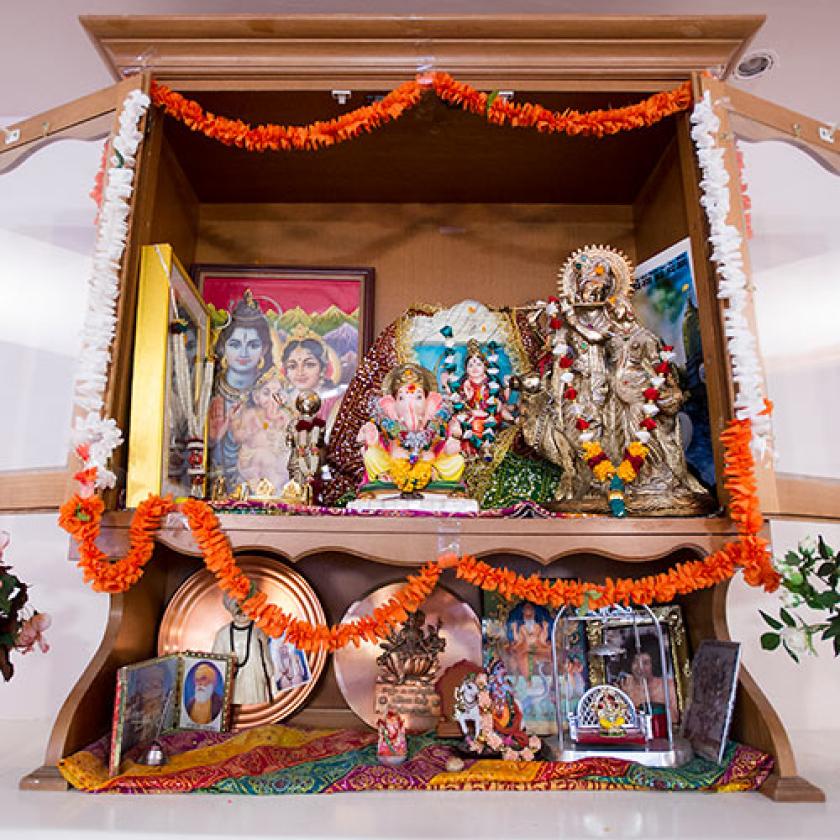 Religious festivals
Our home is rich with Asian heritage and culture, and we also celebrate key dates and festivals in the comfort of our home.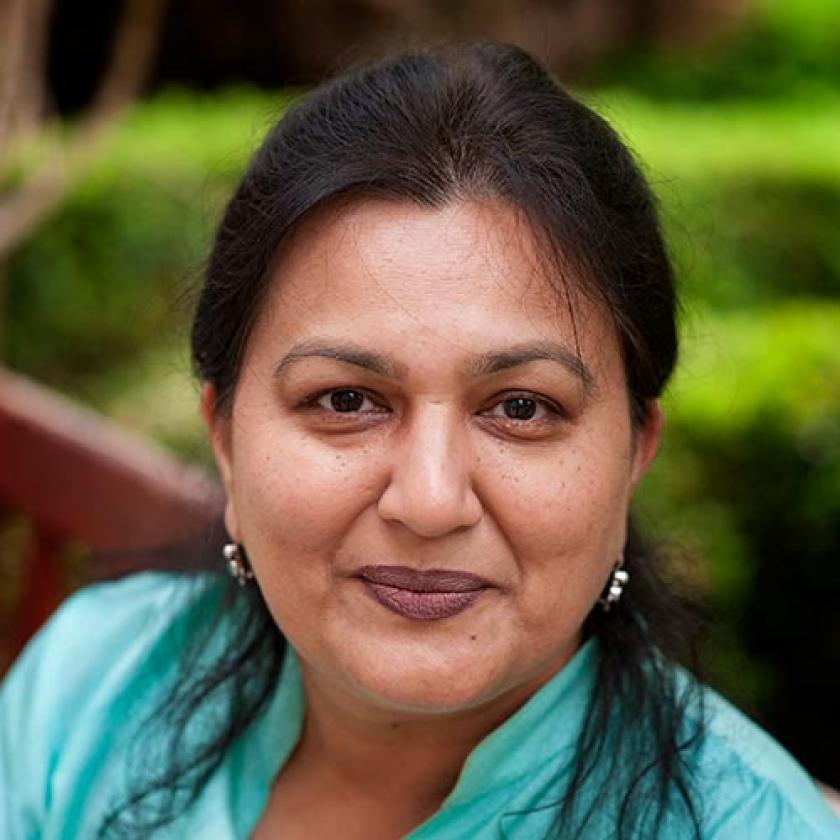 Dedicated Home Manager
At the helm of our home is our Home Manager Smita, who has provided high-quality care and support here for over 16 years.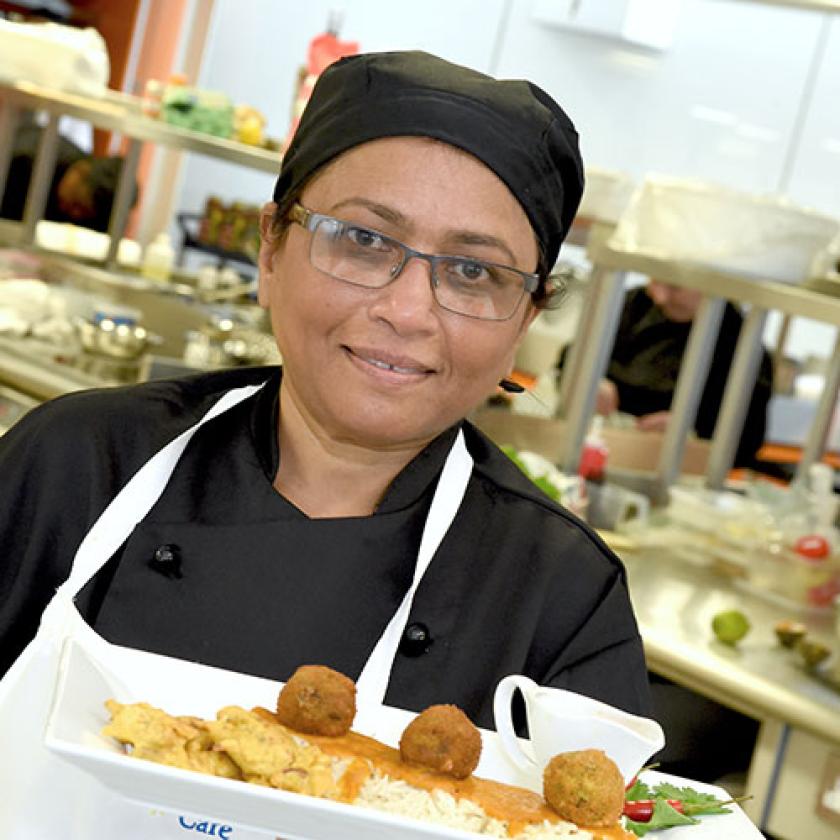 Award-wining catering
Our Chef Manager Bhanuben, who has worked with us for over 25 years, recently came third in our Masterchef 2019 competition.
Stunning gardens
Our gardens are truly stunning, with beautiful hedge-lined walkways, planting and peaceful seating areas.
Facilities at this home
Accommodation
Dining room
Ensuite
Lounges
Temple prayer room
Wheelchair accessible garden
Wifi
Activities
Arts and crafts
Baking
Community events
Light exercise
Religious festivals
Skittles
Care and support
Chiropody
Hairdressing
Home cooked meals
Physiotherapy
Podiatry
Respite Care
Ready to know more?
Get help every step of the way, contact us below to get information or advice.