Sitting alongside the stunning promenade in Prestwick, with glorious coastal views across to the Isle of Arran, Queens Care Home is situated in a truly beautiful location.
Our caring staff provide a variety of care and support to our residents, including residential care, nursing care, dementia care, and palliative care.
The front of the care home stretches along the promenade, with a large decking and paved garden where our residents can enjoy the scenery and fresh sea air. From here, there are views of Ailsa Craig, also known as Paddy's Milestone, an uninhibited island formed from a volcanic plug which was famously used to quarry the granite used to make curling stones.
The bedrooms at the front of Queens boast wonderful sea views across the South Ayrshire coastline, as does our Arran Lounge. This and our other lounge, bathrooms and communal areas of the home are looking beautiful, bright and airy following a very recent refurbishment.
Dementia-friendly
We make the most of the location of Queens. Every week we join Dementia Friendly Prestwick, a group dedicated to supporting people living with or affected by dementia. Together, we stroll along the promenade (and obviously support our less mobile residents in wheelchairs) into the town, where they enjoy a drink with people from the local community.
Trips down memory lane
Queens also partners with Cycling Without Age Prestwick, where our residents are taken on nostalgic rickshaw rides around the town. These are a real trip down memory lane for our residents, many of whom have lived in the area all their lives. For our residents who live with dementia, the rides often help them recall happy memories of where they grew up and places they loved to visit before moving into residential care.
Through our dedicated activities team, we have also just started to do Lingo Flamingo, where our residents take part in sensory linguistic classes here at Queens. Currently, they are learning Spanish. We will be expanding on this by holding themed days to savour the cuisine, music and culture of these countries.
Therapet is an organisation where volunteers frequently bring their well-behaved dogs into Queens for a fuss. The dogs are wonderful for our residents, especially those who love animals or owned dogs and miss that canine contact. We also have two hand-reared rabbits, Sonny and Cher – which are adored by our residents and love to come inside the home for a cuddle.
A beauty therapist in Prestwick also frequently visits Queens for residents who like a little pampering, offering hand massages, nail painting and manicures, as well as more tailored facial trimming for our gentlemen.
Pricing Information
It is usual for residents in care homes to contribute to the cost of their own care. Some people have the resources to pay for their accommodation in full, whilst others make means-tested contributions.
Our 2022 weekly room fee starts from £1,214 but may be in the region of 20% more*. This depends on your care needs and the type of bedroom that is right for you, from our standard rooms to our premium bedroom options.
*If you require more specialist care such as 1-2-1 support, your weekly fee could be higher.
Resident Satisfaction Score
Based on an independent survey completed by our resident's friends and family.
Facilities at this home
Accommodation
Dining room
Lounges
Summer house
Sun terrace
Wheelchair accessible garden
Wifi
Activities
Children visits
Day trips
Languages
Light exercise
Pet therapy
Quizzes
Rickshaw rides
Sensory activities
Care and support
Chiropody
Hairdressing
Home cooked meals
Physiotherapy
Podiatry
Ready to know more?
Get help every step of the way, contact us below to get information or advice.
Where to find us
34 Ardayre Road, Prestwick, Kilmarnock, Ayrshire, KA9 1QL
Travelling to see us? View home on Google Maps
Drive time to home
Stories from the home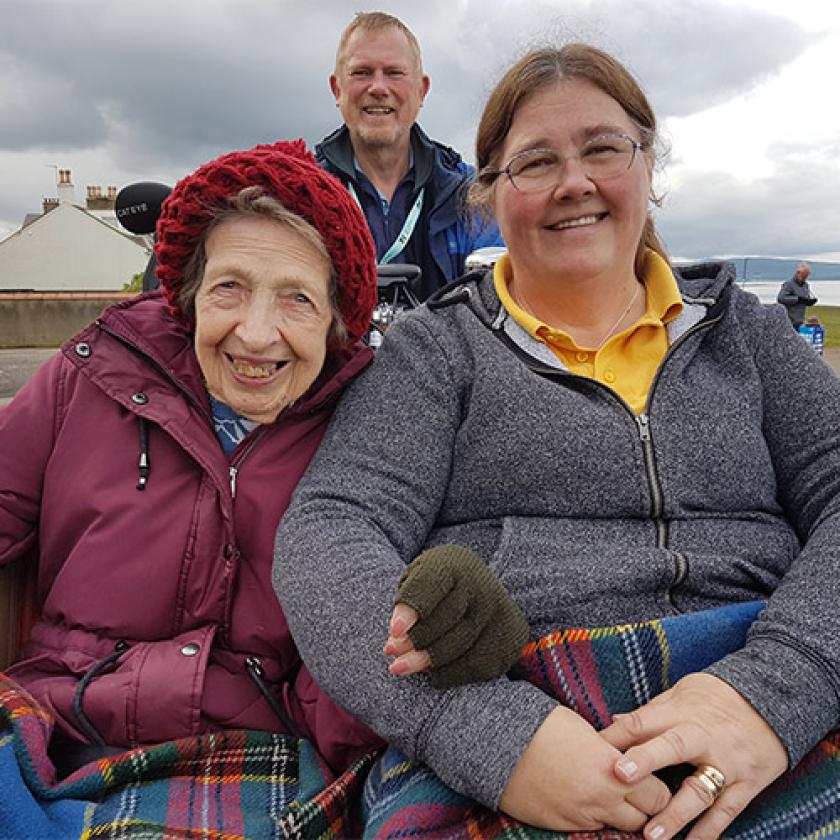 Making magical memories
There are always beaming smiles when we enjoy rickshaw rides thanks to our friends from Cycling Without Age Prestwick.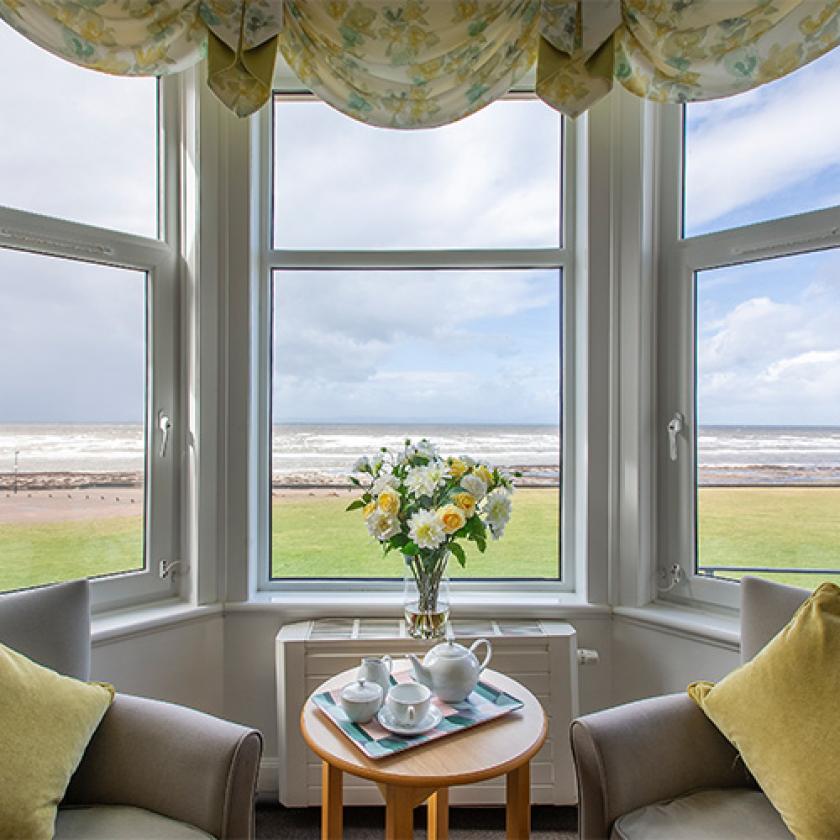 Exquisite sea views
What better place to enjoy the beauty of the beach.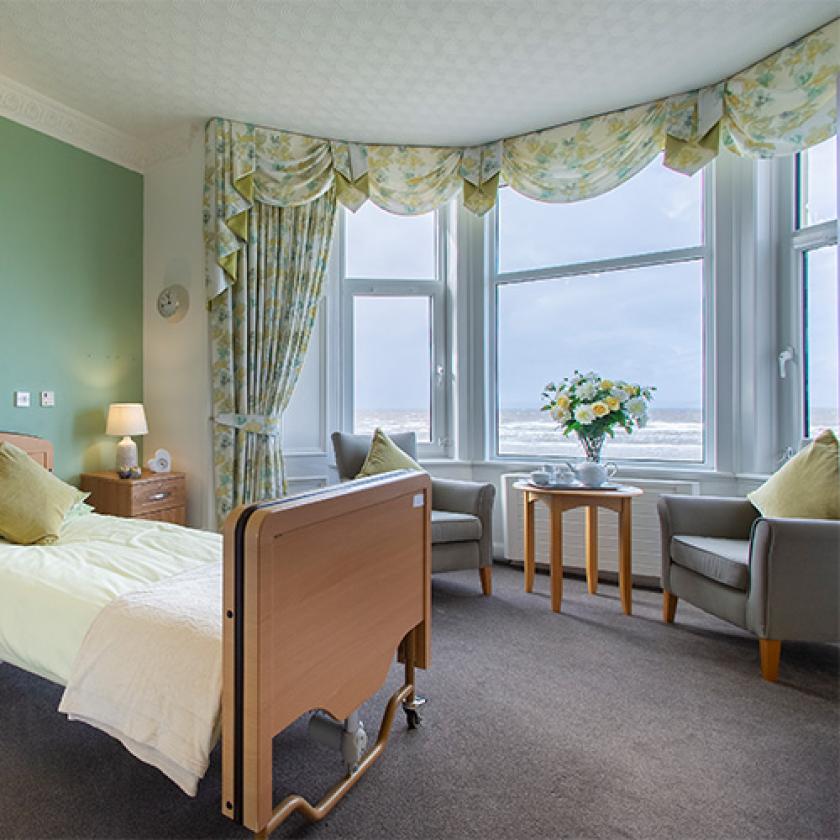 Bedrooms
Many of our beautifully decorated bedrooms have sea views.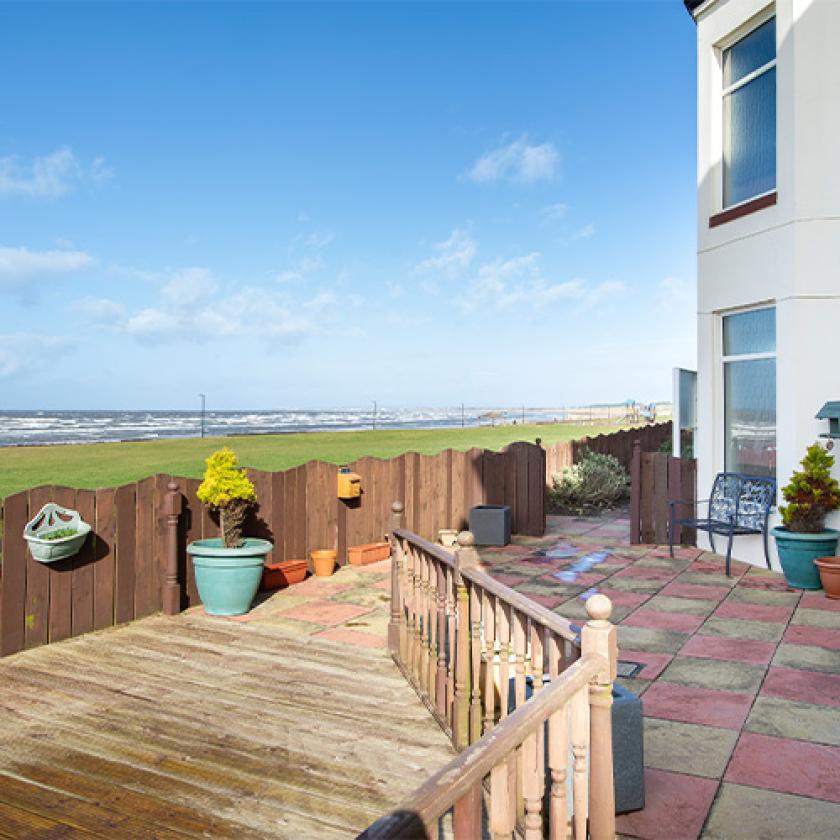 As far as the eye can see!
On a clear sunny day you can enjoy views across to the Isle of Arran.