Catering for the cultural food preferences of our residents
Asra House Residential Care Home in Asha Margh, Leicester is well-known locally for celebrating the diversity and cultural heritage of their residents. This includes an emphasis on providing food that not only meets their nutritional needs, but that also allows them to live their culture, even though they are in a care home.
The care home catering team's attention to detail ensures every resident's cultural food preferences or religious needs are met and catered for. Asra is currently home to 42 residents from diverse religions including Hindu, Sikh, Muslim and Jain.
Meal-times at this residential care home are a wonderful thing to witness; you can see how satisfied and engaged the residents are and how important the social aspect of dining together is, with friends and family regularly joining residents for dinner because the food is so good.
Putting the resident's cultural food preferences first
Providing nutritious recipes is a key aspect of dining at our care homes; at Asra curries are a favourite on the varied menu, with the catering team ensuring any meat sourced is Halal, from a local butcher. The residents also like to regularly eat English dishes.
Meeting cultural preferences in food is so important here demonstrated by touches like two kitchens for the separate preparation of meat and vegetarian dishes, and meals that also adapted to suit the needs of residents where their weight is being monitored, so that they are tasty but also nutritionally balanced. Hansa Bagtharia who is one of the cooks, has been at Asra for 21 years and makes the best chapattis.
The catering team take pride in the meals they serve to the residents and know exactly who likes what, for example omitting onions, garlic and other ingredients from some individuals foods due to religious beliefs. The chefs even get help preparing vegetables from a few of the residents who like to show them how it's done!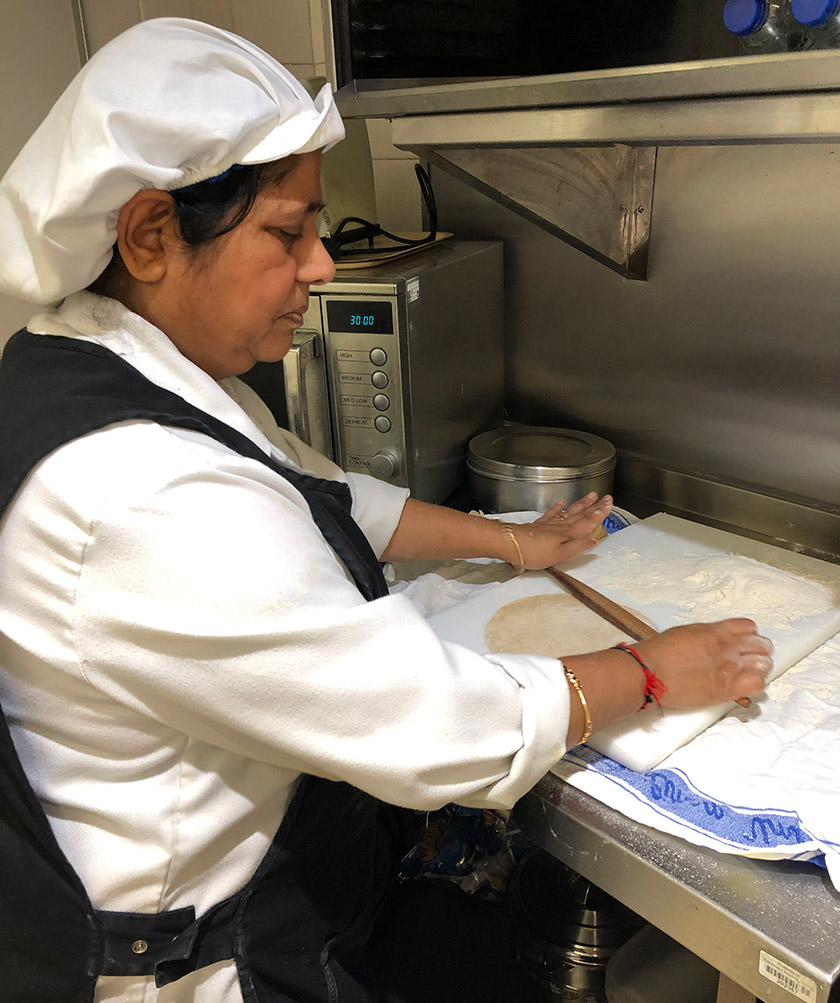 Home Manager Dina Dasani says: "All of our staff from caterers to cleaners go above and beyond to ensure our residents' home is a wonderful place to be. Our meal times are such an important part of a resident's day, I love the buzz in the dining rooms. Many friends and family join us everyday for lunch and dinner, saying we are tastier than some of the local curry houses!"
Food ideas tailored to elderly residents, any time of the day
The home is always looking at innovative yet simple improvements to support healthy eating for the elderly residents and how to promote adequate nutrition and hydration. With access to their own fridge filled with healthy snacks, care home residents can help themselves to cold drinks, milk, fruit, bread and yoghurts as well as dry snacks in the cupboards anytime of the day.
The home has also recently introduced night trollies filled with nutritious snacks for Asra's residents, which staff can also easily bring to a resident's room should they feel peckish during the night, this has been a huge success.  
You can read more about catering in Sanctuary Care's homes and our focus on excellent nutrition for our residents on our food and dining experience page, which includes a recipie to make Hansa's spicy chipattis. You can view more about care home activities on our nutrition and exercise page.