Meet our Nursing Associate Apprentice
In the first year of his two-year Nursing Associate Apprenticeship programme, Billy talks about shadowing nurses during the coronavirus pandemic and how he feels prouder than ever before to be a frontline worker.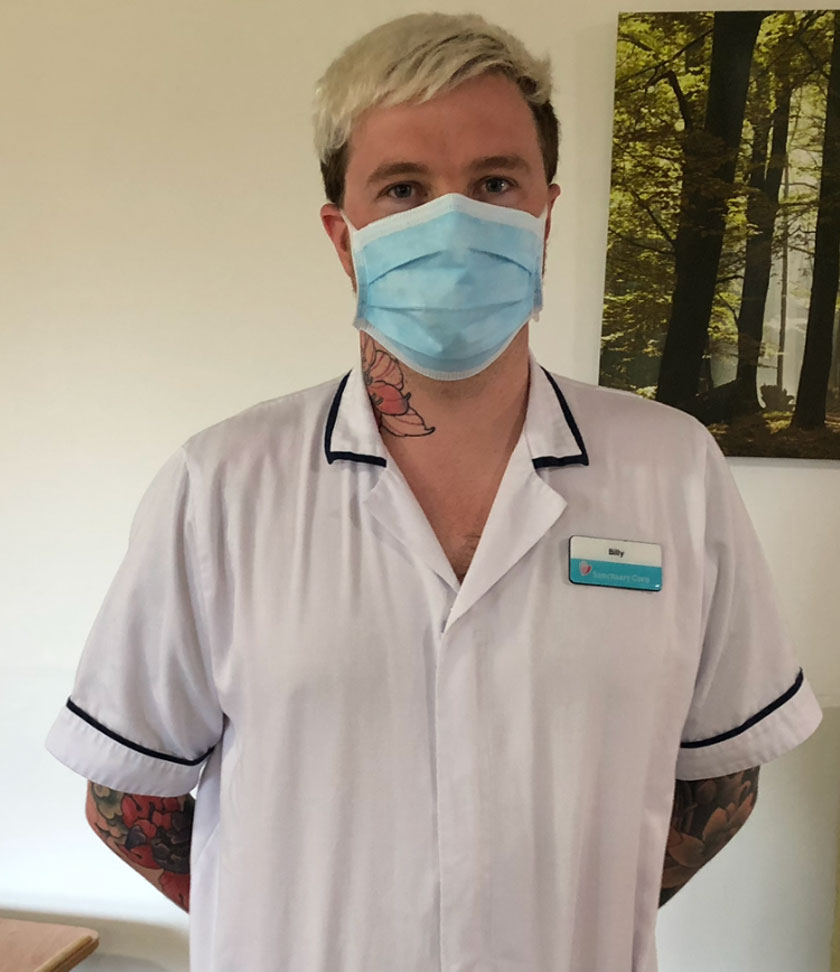 He says: "I am grateful that we can make such a massive difference."
Billy works at Fernihurst Nursing Home in Exmouth. He started his apprenticeship when he was a Senior Care Assistant and wanted to develop his career in the direction of nursing. Fully funded by Sanctuary Care, his apprenticeship means he spends one day each week at the University of Plymouth, and the remaining time working at the home under the supervision of highly experienced registered nurses.
During the pandemic Billy now completes his studies online because of the closure of educational establishments, but his work in the home has been more hands on than ever and has reaffirmed why he chose to work in care in the first place.
Missing loved ones
Residents at Fernihurst are living with dementia and have nursing needs. Some understand the restrictions the global coronavirus situation has brought with it but for many, it is hard for them to understand why their loved ones can't visit like they used to.
Billy said this is where the staff have truly come into their own, spending every spare moment trying to fill the gap that seeing loved ones has left. He said: "The integrity of the staff has been second to none and many have worked continually throughout – they have been absolutely incredible. I don't feel that I've gone above and beyond as this is my job, bringing that little bit of sunshine to those who need it most."
Shining a light on care workers
For Billy and his colleagues, coronavirus has really shone a spotlight on the vital job that people working in care and nursing homes do day in day out, and is something he feels incredibly proud to be part of. He said: "People working in care are never going to be more important than they are right now – this is the most important time that they will ever work in this role."
Designed as a role to bridge the gap between care and nursing roles, Billy says doing an apprenticeship during this pandemic has meant he has had to 'step up' very quickly to support the nurses at Fernihurst. As part the programme he learns key clinical skills such as wound dressing, taking vital signs, blood sugar monitoring and administering medication. We spoke to Billy last year to find out more about what inspired him to start his apprenticeship.