Susan's story
Here we introduce Susan Kelly, who works at our care home in Cambridgeshire as Catering Manager, who has been with Sanctuary Care since 2011.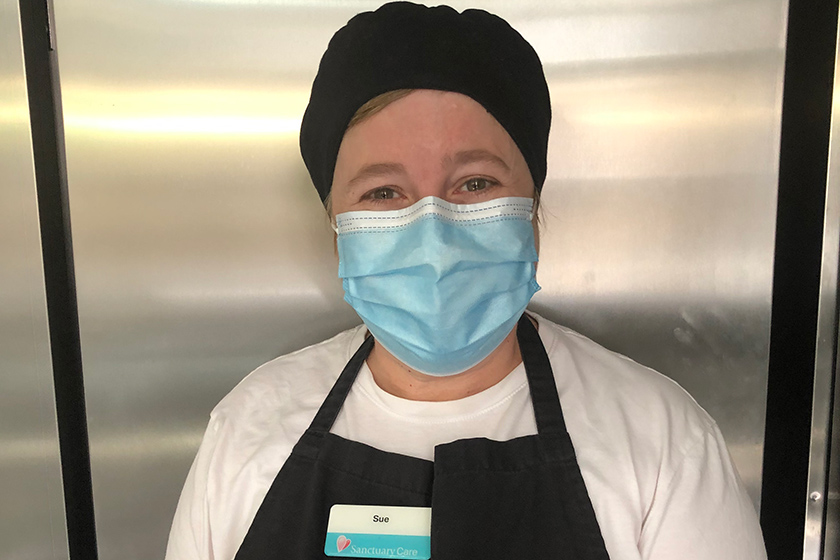 Susan studied catering at college and after getting married and starting a family, moved to Cambridge. She saw an advertisement for a Catering Manager at Orchard House Residential Care Home, applied and was successful!
She says: "I have been here a long time and I still love my job. I have a fantastic team and I love spending time with all our residents."
My best bits so far…..
"I have had so many highlights. Orchard House has achieved a five star food hygiene rating every year. We are all very proud of this. When I speak to residents after mealtimes and they say how wonderful the food is, it makes me very happy, as it does when relatives comment on how good our food is and how much enjoyment their loved ones get from our menus."
Susan explains how the mealtime experience is tailored to each and every resident. She says: "Our menus are seasonal and we can adapt these to suit their tastes or any dietary requirements they may have. We also hold regular meetings to check residents are happy and to share ideas. A member of my team will also speak to residents daily to get feedback on the meals that day. When a new resident moves in, I will introduce myself and we chat about what foods they like and I show them our current menu to check they are happy with the food choices."
A day in the life of a care home chef
Susan describes a typical day in the kitchen: "I start by checking the fridge and freezer temperatures, accepting and checking the deliveries and labelling and storing the food correctly, as well as ordering more food!
"We then prep the cooked breakfasts as these are cooked to order. Once breakfast is cleared away, we start prepping the two course lunchtime meal. We also bake a cake or biscuits for afternoon tea, we then start preparing the evening meal and clearing up. Aside from the daily routine, we have regular training and I hold staff supervisions."
Talking about working during the global coronavirus pandemic she adds: "We have adapted and are all wearing PPE in the kitchen, and have changed the way we receive orders into the kitchen and how we serve food to the residents to ensure everyone is safe."
My advice is to go for it!
Susan concludes: "To anyone with catering experience who might be considering a career as a Catering Manager in a care home I would definitely recommend it. My team and I have to be adaptable and take each day as it comes as every day is different. Our job is to provide a great service to the residents and to always take pride in your work.
"People always 'eat with their eyes' so presentation is very important in my kitchen! Sanctuary Care is a good company to work for, they have looked after me, especially during the pandemic and have given me plenty of opportunity to grow and develop through regular training opportunities."