A taste of 'real life' work for aspiring paramedics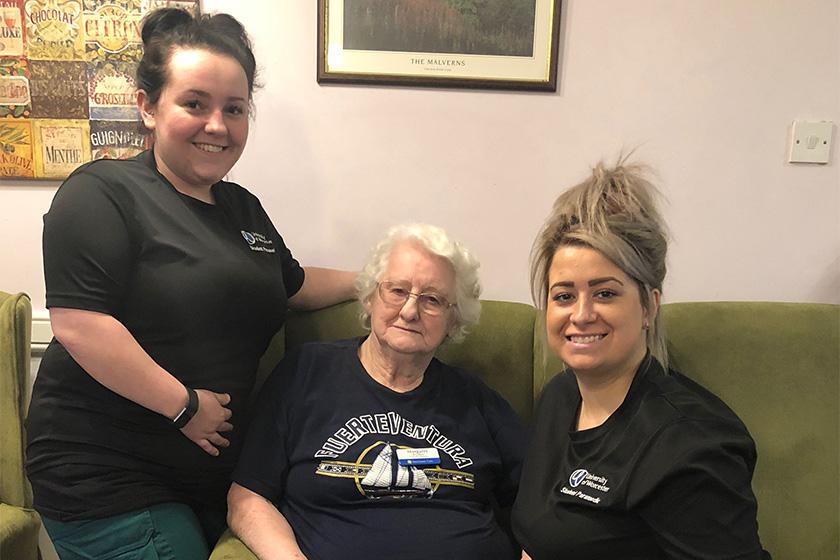 Sanctuary Care homes across Worcestershire and the West Midlands have welcomed student paramedics for some valuable work experience.
The second half of a cohort of BSc (Hons) first year students from the University of Worcester are embarking on five-week placements, getting real life work experience in a number of Sanctuary Care's homes. The 25 students from the 50-strong cohort are based at a number of Sanctuary Care's homes, including Beechwood Residential Care Home in Upton-upon-Severn.
Developing a better understanding of the care sector, the students will spend the whole of their five-week placement at the same home, giving them a true insight into life and work in a care home.
Abbie Dowden and Harriet Ward, who are both originally from Wales are now half way through their placement at Beechwood Residential Care Home.
23-year-old Abbie said: "I have had experience in a care home previously and it has been so nice to work in a smaller care home. It's more intimate and I am really enjoying getting to know the residents."
Harriet who is 22 added: "I have never worked in a care home before so I was quite shy coming into the placement, but it has already really helped my confidence.
"It's taught me how to interact with the residents on a one-to-one basis and how to support them in a way they are comfortable with."
More than happy to help
Speaking of the two students, 84-year-old resident Margaret Brookes said: "Both of the girls are lovely and more than happy to help; it's nice that they get to come and work with us as part of their university course."
Neil Quinn, Sanctuary Care's Director – Human Resources, added: "We are once again really proud to welcome the University of Worcester's aspiring paramedics, following the first successful group of students before Christmas."
"The feedback from our teams has again been really encouraging, and our residents are enjoying the students' company and support."