A new wave of silver surfers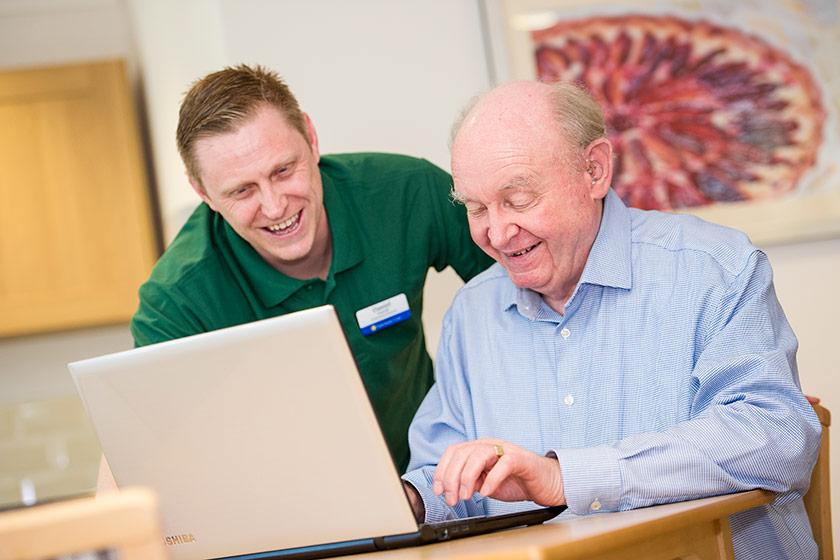 A Sanctuary Care home in Chester has been bridging the digital gap as residents get tech-savvy with iPads and Skype.
Residents at Upton Dene Residential and Nursing Home in Caldecott Close, have been learning new skills to help them engage in the growing online world with the help of Digital Buddies.
Digital Buddies is a Brightlife funded project run by Heather Backstrom and Alan Smith and aims to support the older generation with digital technology, such as Skype, FaceTime, Facebook and email.
Armed with laptops and iPads, the home's residents have been introduced to a number of popular social networking platforms, making it easier to stay up to date with current affairs and contact friends and family, who may live abroad.
Alan, who leads the sessions at Upton Dene said: "The residents are really enjoying using the iPads, watching videos of London present and past and line dancing – they are also using them to access talking books such as Little Women.
"We've also been using Google Earth, with the residents sharing memories of where they used to live."
Home manager Dawn Smith said: "It's been so wonderful to see our residents become more confident using their tablets and making the most of what the digital world has to offer!
"Some of our residents have family all over the world so being able to keep in contact with just the touch of a button is just invaluable."