Sam is improving skills with his apprenticeship with Sanctuary Care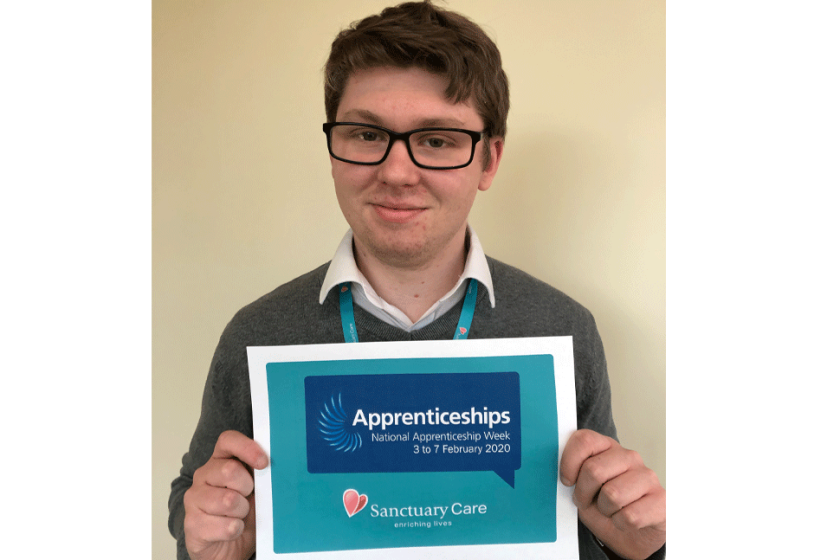 Gov.uk shared that "nearly all apprentices feel that they acquire or improve their skills as a direct result of their apprenticeship".

And Sam Jones, a Business and Administrator Apprentice couldn't agree more. Read his story:
Sam Jones, Apprentice at Sanctuary Care
Meet Sam, who is currently mid-way through his Level 3 Business Administration Apprenticeship. Every day he supports the recruitment process of the hundreds of volunteers and work experience placements at Sanctuary Care. Dealing with a range of enquiries throughout the end-to-end process.
Enhancing skills through apprenticeships
But how has this enhanced Sam's skills? Sam shares: "Since the start of my apprenticeship back in July 2018, I have learnt many skills - from prioritising tasks to working in a professional environment and with a wide range of different people - inside and outside of Sanctuary Care.
"On top of all this, I've still managed to find time to complete comprehensive development workshops, which will continue to enrich my career. It really is the perfect mix of both worlds, training on-the-job and progressing learning."
"And that's why for me it was the perfect avenue to help me reach my full potential and learn new skills. I knew throughout my A-levels, University wasn't for me - I didn't thrive in an academic environment but I do at Sanctuary Care. I'm so pleased I jumped at the opportunity when it became available, I knew from the beginning that this would be new chapter for me. And it really was!"
Celebrating #NAW2020 at Sanctuary Care
To mark National Apprenticeship Week 2020 at Sanctuary Care, we are showcasing the individual successes of our apprentices and for Sam, it's a simple but a big one.
He continued: "It may seem an obvious one but for me, it's completing my Level 2 in Business Administration. When I left school, there was a time I didn't think I would further my studies but here I have already completed my Level 2 and am already well on the way for Level 3."
"Next stop after that is securing a permanent job and I hope it's with Sanctuary Care as it truly is an amazing place to work."