Connecting residents and loved ones with kindness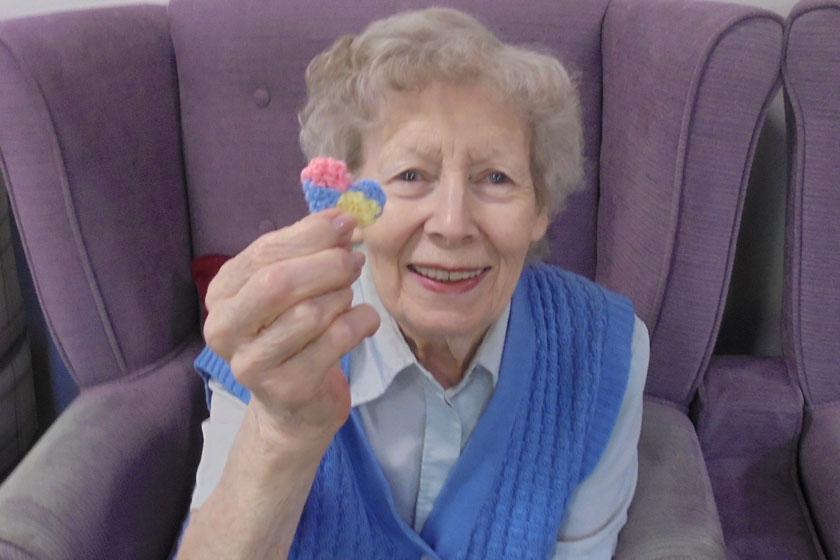 Mental health has no age limit and having good mental health is  important for everyone, especially our amazing residents. That's why everyone here at Sanctuary Care are dedicated to providing inspiring and meaningful moments that truly promote positive mental health and enrich lives – every single day.
And this has continued to be a priority, alongside high quality care, throughout the Covid-19 crisis. Now more than ever we are managing our residents' wellbeing, especially as they are spending time away from loved ones following the visitor restrictions that were put in place to manage social distancing.
Smiling and spreading kindness
While we can't replace hugs from daughters, sons, husbands, wives or grandchildren, our care home teams have been going above and beyond to fill this void more than ever. You only have to go to our social media accounts (Twitter or Facebook) to see daily examples on how we are supporting our residents to continue to smile, spread kindness and enjoy life, as well as stay connected with their nearest and dearest and their wider communities.
But fortunately, we are not the only ones who are thinking of our residents. Community spirit has been shining throughout this national crisis and local people have been busy sharing kindness with our care homes – from donating sweet treats and pick-me-up gifts, to becoming pen pals and painting beautiful pictures. The list is endless and every kind and selfless act has been to simply raise a smile, show they care and that they are thinking of them. Three simple things that make such a difference.
And a fabulous example is when a Worcestershire knitting group came up with a unique way to keep our residents connected with loved ones from the heart.
Holding hearts
'Worcestershire's Hearts of Joy' knitting group has been busy knitting up a storm to donate a number of matching hearts to our care homes across the country.
Two matching hearts, which are no more than two inches in size, are given to our residents and their loved ones, so at time when they can't hold hands, they are holding hearts.
And making them even more special, the hearts are unique in their design for every single resident.
One resident in particular who loved the idea was Elizabeth Grittins (pictured).
Elizabeth, resident from Brambles Residential Care Home, a care home in Redditch, said: "It really is a lovely idea, especially as my family will receive it as well. I'm so thankful for the effort everyone has gone to, it's so nice how our local community is supporting us."
Fiona Morsy, activities coordinator added: "The hearts are so beautiful and have moved everyone – not just our residents but family members too.
"This simple act of kindness has moved people to tears and given, loved ones especially, a mental boost.
"Everyone is missing each other but to have something to physically hold has made it that little bit easier.
"Thank you to Amelia for donating these gorgeous keepsakes to our residents."
Our team at the Brambles ensured all the hearts were donated and delivered to residents and their loved ones in time for Mental Health Awareness Week 2020. The theme for the annual awareness drive is kindness and this seemed like the perfect thing to do to mark a national event that is so close to their hearts.