Fred shares his story on how he overcame Covid-19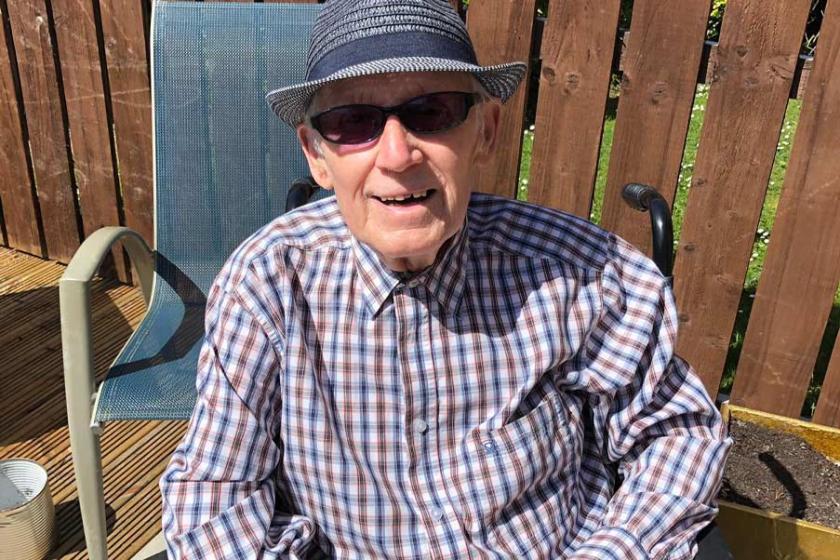 86-year-old Fred, a Sanctuary Care resident of 18 months, has always been the life and soul, but recently he faced first-hand how scary Covid-19 could really be.
Fred Turnbull – also likes to be playfully known as Fredericko, is a resident at Sanctuary Care's Birchwood Court Residential Care Home in Peterlee and has recently rejoiced a negative Covid-19 test result following a spell of poor health and a scary hospital stay due to the hands of the global virus. Here is his story:
Back in April, Fred became very unwell - he was extremely lethargic and sleepy, and a far cry from his usual larger than life personality - he was sadly unrecognisable. Simple tasks became a heavy strain, he felt weak, worryingly breathless and could fall at any minute.
So, it wasn't long until Fred was taken to Sunderland Royal Hospital, where he was unfortunately tested positive for Covid-19.
Fred stayed at hospital for 14 days where he was on oxygen to support with his breathing, but it took some time before his condition improved – his breathing was too erratic. In fact, at first, he was deteriorating, he couldn't eat and struggled to drink.
Katie Jowers, Sanctuary Care home manager at Birchwood Court, said: "Every day when he was in hospital we hoped, and we prayed. Fred is such a big part of our home, we missed him - everyone did. It felt like there was a huge hole in our home and we needed him back.
"It was so heart-breaking at first, we would have daily updates and each time we would hope this was the day we would hear something positive but for the first few days, we would hear no change, and even worse hear how he was deteriorating, away from us and his loved ones."
But after two full weeks in hospital - which felt like a lifetime for the team, Fred returned home – but Fredericko was far from present.
Katie continued: "We were thrilled to have Fred home - he was back! However, even though he was safe to return to his home, he was still extremely poorly and the level of care he required had radically changed."
Before Fred contracted the virus that has gripped the globe, he was very independent - something he was extremely proud of. But that had changed, his dependency levels had increased, and he was needing more support to carry out everyday tasks.  
The dedicated care team supported Fred to sit in his chair for small periods of time and to eat and drink regularly throughout the day. And as each day passed, they gently encouraged him to do a tiny bit more, than the day before. 
Katie shared: "In the first few days of being home, Fred was so weak. We knew he just needed time, support and encouragement to build his strength back up. The team were always there, going at his pace to deliver truly person-centred care, and as he slowly got his 'Fredericko spark' back we also supported him socially. After just seven days he was out of bed and serenading everyone by singing Frank Sinatra's My Way – his favourite song, and that's when we knew Fredericko was back in the building."
"Fred is a super sociable chap, he loves to be around people and is constantly chatting and singing, we knew as he was getting fitter and stronger, isolation and being surrounded with people in full PPE would start to take its toll. So even though we couldn't remove our PPE, we would ensure we also made time for Fred – for the chats and the giggles so we would have regular one-to-one time with him, not just delivering care but for simply being there as a friend."
As time went by, Fred's health continued to improve, and his abilities and needs began to return to his normal baseline. But the aftercare did not stop.
Fred couldn't remember what had happened to him, he just knew he had been to hospital and he had been 'very poorly'. And the team recognised from the offset that being in hospital without any familiar faces would have been hard for Fred and his family.
Katie concludes: "When Fred was fit to do so, we did some serious talking - as serious as you can be with Fredericko. What he went through was scary, plain and simple - it was heart-breaking, and he had no one he loved around him. So, we've been talking to him to explain what he went through and why we or his loved ones weren't there physically, but how we were there mentally and how we were really rooting for him every step of the way."
Fred is now Covid-19 free and he is continuing to build his strength up and doing the things he loves again. He has seen family safely though windows and spends time with his fellow residents and friends, whom he missed dearly - listening to music and singing his heart out."
Karen Johnson, Fred's daughter shared: "I have so much admiration for all of the team at Birchwood Court. How the team have handled everything, it's just been wonderful for me and made me feel secure knowing that he's in the best hands. No task is too much for them and they are so wonderful at helping me see my dad from the window."
And Fred himself added: "You did 100 per cent and I love you all."