Chigwell care home residents banish holiday blues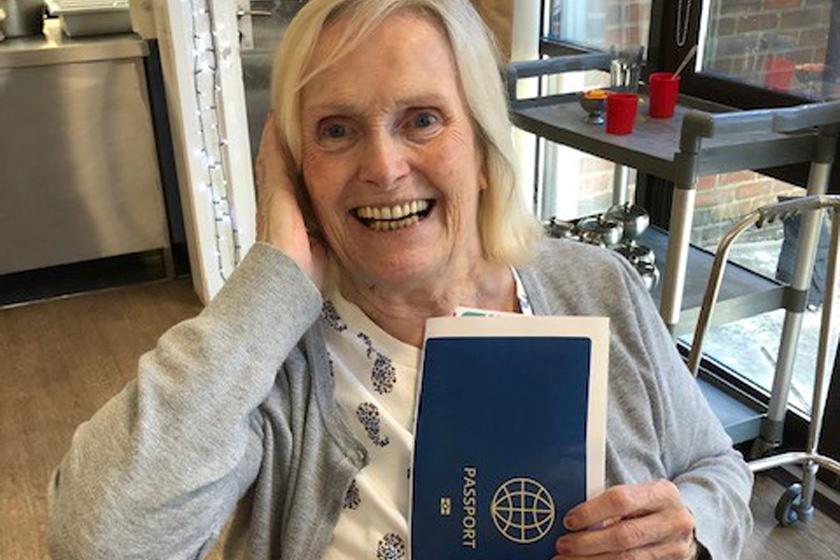 Residents at Sanctuary Care homes across England and Scotland are embarking on 'virtual' cruise trips during a summer-long globe-trotting expedition.
Among them are Pinewood Residential Care Home in Chigwell, where residents and the team, playfully now known as passengers and cabin crew, are re-creating European holiday hot-spots throughout July and August.
Inspiring care home activities to be enjoyed by all
Boarding passes in hand, the passengers of the Manford Way cruise-liner will be enjoying a virtual holiday of a lifetime, where they will be exploring traditional flavours and cultures of eight far away destinations.
From Italy and Cyprus, to Greece and Turkey, each week the cruise-liner will dock at a new destination, where passengers will enjoy truly-authentic excursions, including Portuguese port tasting and Azulejos tiles creating.
Bringing European highlights into the heart of the home
Other highlights include turning their hands to sangria making in Spain, re-creating their own Monet masterpiece while they soak up the art culture in France and hosting their very own Maltese 'Feat of St Paul Shipwreck' festival.
And all this will all be washed down with a taste tantalising three-course traditional menu at every port.
"…provoking beautiful memories and creating new ones…"
Explaining why her cabin crew are pulling out all the stops, Captain Denise Brown (home manager) said: "The Sanctuary Care Cruise is our opportunity to inspire and engage our fabulous residents, while transporting them away from Chigwell. Our travel calendar is literally bursting at the seams as we have so much to look forward, including dancing, crafting, painting, baking, tasting, drawing, quizzing, learning and celebrating. We are even hosting our own Maltese and Cypriot festivals, right in the heart of our home.
"For many of our residents the exciting excursions will be new experiences to enjoy, while for others it will likely provoke beautiful memories of when they travelled with loved ones, and we can't wait to celebrate both as we come together to create these magical moments with them."
Oh it's fabulous to be on a cruise! It's going to be great and I love the cabin crew's uniform - it's like a proper holiday.

-First class cruise passanger, Marie O'Grady (86 year old resident)
The Sanctuary Care Cruise travel itinerary…
The Sanctuary Care Cruise-liner will be virtually travelling from Southampton and voyaging to:
Lisbon, Portugal (9 – 10 July)
Malaga, Spain (16 – 17 July)
Nice, France (23 – 24 July)
Rome, Italy (30 – 31 July)
Valletta, Malta (6 – 7 August)
Athens, Greece (13 – 14 August)
Limassol, Cyprus (20 – 21 August)
Istanbul, Turkey (27 – 28 August)
Follow the journey on our social channels (Facebook, Twitter and LinkedIn) or simply search #SanctuaryCareCruise.