"Life is for living" says centenarian Betty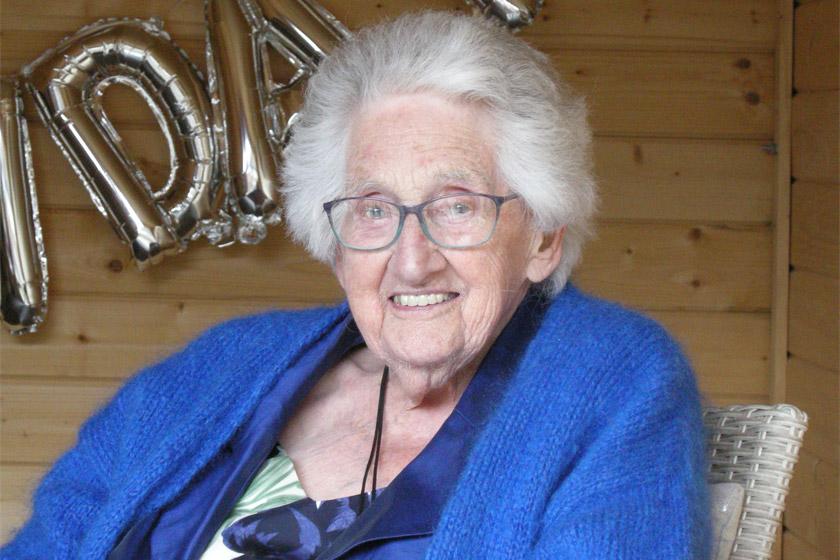 The amazingly positive attitude of a Sanctuary Care resident in Dovercourt is clearly doing her the world of good as she celebrates her 100th birthday!
Betty Hindmarsh, who lives at Don Thomson House Residential Care Home says: "Life is for living, there's no point in being sad - live your life as if it's your last day."
Betty celebrated her milestone birthday last week (Wednesday 1 July) with the team and fellow residents at the care home, where she has lived for two and a half years.
Born in 1920 in Somerset Betty believes there is a very special reason behind her good fortune: She said: "I was born lucky, I was born with a caul over my head. My mother was always proud of this and I think it's proved to be right!" 
Betty's parents, Wilfred and Emily, and various relations reached well into their nineties. Her sister Patricia, who was seven years younger, sadly died just before her third birthday.
Working at Westminster Bank in Chelmsford before being called up for war service in the ATS, Betty had to travel to many parts of the country, the War Office in London  being the scariest place to work during the Blitz. 
Betty met her future husband George in Somerset in 1940, when he was stationed at her uncle and aunt's farm, having been recently rescued from Dunkirk. They had to wait until the war was over before marrying. Three children followed, Mary, who lives near Bath, Elizabeth who is in Gloucestershire and John who lives in Suffolk.
When the children had all grown up, Betty spent many years working at Ramsey School, now known as Two Villages School.
Betty and George had a lovely life in Dovercourt from that time - George worked for HM Customs and Excise and both were involved in various Clubs and organisations in the town. Sadly, George died in April 1986.
Betty has five grandchildren, Simon, David, Olivia, Juliet and Rosalind, as well as six great grandchildren, Freya (aged 6), George (3), Rose (3), Patrick (2), Arthur (1) and nine month old Charles.
Betty loves nothing more than spending time knitting for her family. Last year she knitted every single member a scarf – over 50 in total!
Ann-Marie Greenhalgh, activities coordinator at the home said: "Betty is always so happy. She is always smiling and when you tell her she makes your day, she always says 'Life is for living!'"