Such a positive experience, from my first phone call to dad moving in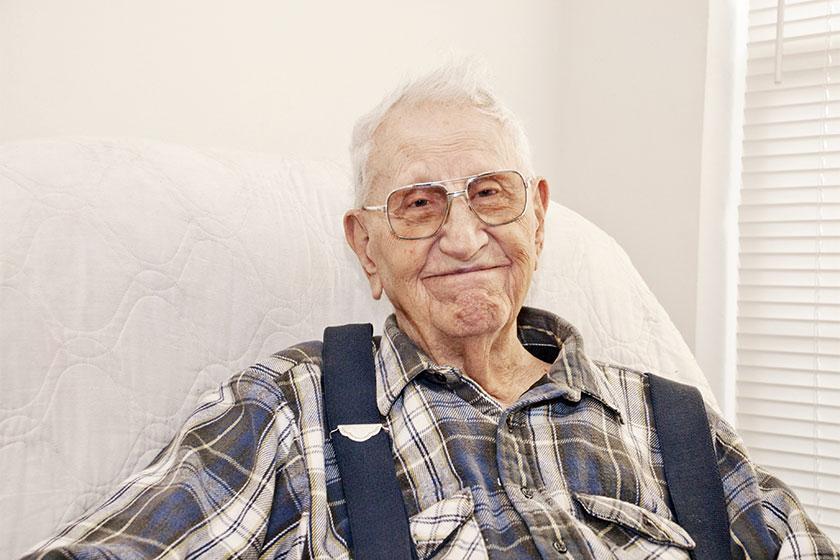 When Carole and her sister Jane became increasingly concerned about the safety of their father Dennis, who lived alone, they knew they needed to look at respite care. And Sanctuary Care's Enquiry Support Team was there to support Carole and her family at every step.
Blind in one eye and visually impaired in the other, with early-stage dementia; Dennis suddenly started taking dog Bridget for walks, despite having a dog walker. Dennis had carers coming in during the day, but the overnight gap between their visits was a worrying time for his daughters.  
A healthcare professional herself, Carole didn't require the level of support others might expect in terms of understanding funding and the different types of care.
A really refreshing first impression
After spotting The Laurels Residential and Nursing Home in Derby on Sanctuary Care's website, Carole called our Enquiry Support Team – a team that provides free advice and guidance on all things care.
Speaking with advisor Meegan, Carole said: "She was really friendly, honest and helpful."
After speaking to Meegan, Carole was confident she would like to see the home, so she arranged for her to have a virtual tour.
The whole process from the enquiry to speaking with the home was very fluid. That is one of the things that really impressed me, if anyone says they are going to do something it's always followed up."

Carole, daughter of resident
Carole was equally as impressed with her first impression of her virtual tour. She said: "The show-around was at the time we had arranged and they were very considerate of the privacy and confidentiality of the other residents – for me, that was a big tick, showing they were caring and respected confidentiality."
Following this Carole had a virtual assessment with Home Manager Sheila, who spent two hours getting to know Dennis to ensure she could meet his needs.
Dennis settles into the home
The positive experience has continued since Dennis moved into The Laurels, with the staff supporting Dennis to video call Carole on the home's iPad.
She added: "It was nice to see him look so well. He was clean-shaven and had nice clean clothes on. His room and the view from his room looked lovely – it was a really positive experience. I don't think he realises how lucky he is."
Dennis' beloved dog Bridget has even been able to visit, as he has a secure patio door from his bedroom to the home's garden.
Trust is key, especially right now
When Carole spoke to Dennis about what he was enjoying about life at The Laurels - he said without hesitation the home-cooked food and the fact that it is a peaceful home. She added: "The trust element is so important, especially right now and when you phone, they always tell you how he is and what he's been doing. They do the things they say they are going to do so and whenever I drop something off outside at different times; it always feels calm and peaceful there."
She added: "My experience with Sanctuary Care has been very refreshing and positive."
Call us today, we are here to talk.
If you would like to speak to one of our Enquiry Support Team advisors about care for yourself or a loved one, we are here to talk. Call for free on 0800 917 0478, email care.hub@sanctuary-housing.co.uk or join us for Live Chat by pressing the chat icon on the website.