The comfort I feel having mum so close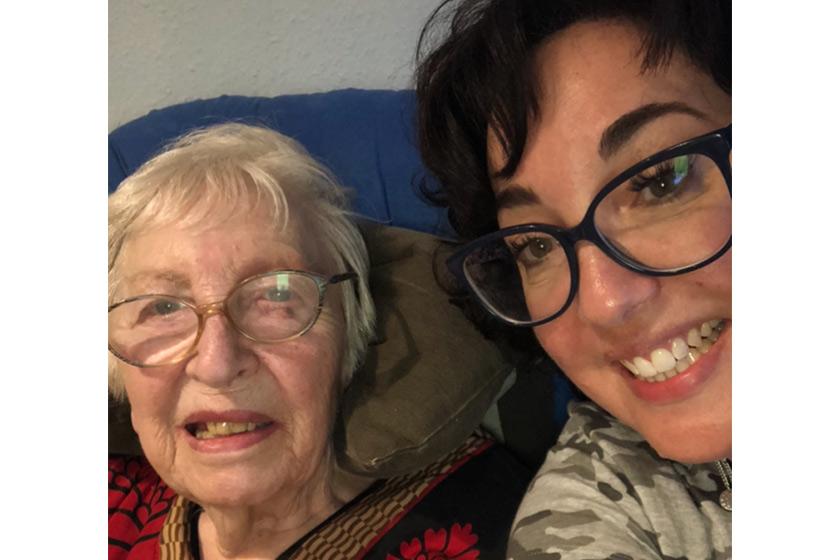 For Julia, the experience of mum Frances living four hours away in a nursing home run by another care provider and not being able to visit at the height of the pandemic was "horrendous". Julia knew Frances desperately needed to be closer to her loved ones.
Julia had viewed our Beach Lawns Residential and Nursing Home in Weston-super-Mare last year, but there wasn't a nursing bedroom available. In January Julia's father passed away and then the pandemic struck. Feeling "cut off" from one another, Julia called our Enquiry Support Team advisors on 0800 917 0478, who arranged for her to have a virtual tour of Beach Lawns.
To her delight Frances was able to move into a beautiful bedroom, overlooking the beachfront in time for her 80th birthday.
Having mum here is "magic"
Julia said: "Not seeing mum for months and then having to do that horrendous journey – to her being at Beach Lawns – it's magic! It has been the best outcome to have her here where she belongs with her family."
Julia said being so close is a great comfort for Frances. She added: "She knows I am ten minutes away from her which is amazing."
Reassured knowing she's in safe hands
Knowing the staff at Beach Lawns are so diligent when it comes to keeping their residents safe during the pandemic gives Julia great peace of mind.
She explained: "Of course I want to be able to cuddle mum. But just to be able to be in the same room as her and knowing she's in safe hands is such a relief. To be able to get her here at the end of such a horrible year – in time for her 80th birthday - and to be able to see her has been wonderful.
"When I arrive, she's waiting for me in the conservatory with all the safety measures are in place – I wear a mask and the staff take my temperature, I sanitise my hands and we sit more than two metres apart."
Knowing mum is happy brings me joy
Julia said Frances has settled in so quickly, adding: "She says the food is wonderful. I am so happy with the care she is receiving and the staff are amazing.
"It is lovely inside but it is not just the décor – it's like when you're looking for a house and you walk through the door and know its right – she is just so happy there."
Comfort from the first phone call – to Beach Lawns being home
Julia praised Sanctuary Care for making the entire process, from the first contact with the Enquiry Support Team through to Frances moving into Beach Lawns, so seamless.
"It was such an easy process from the beginning. When I spoke to the manager she made me feel really reassured. It was such a smooth transition."
Find out more how our Enquiry Support Team advisors can help you by calling 0800 917 0478.