"Seeing the residents smile means the world" – Diane's 19 years at Pavillion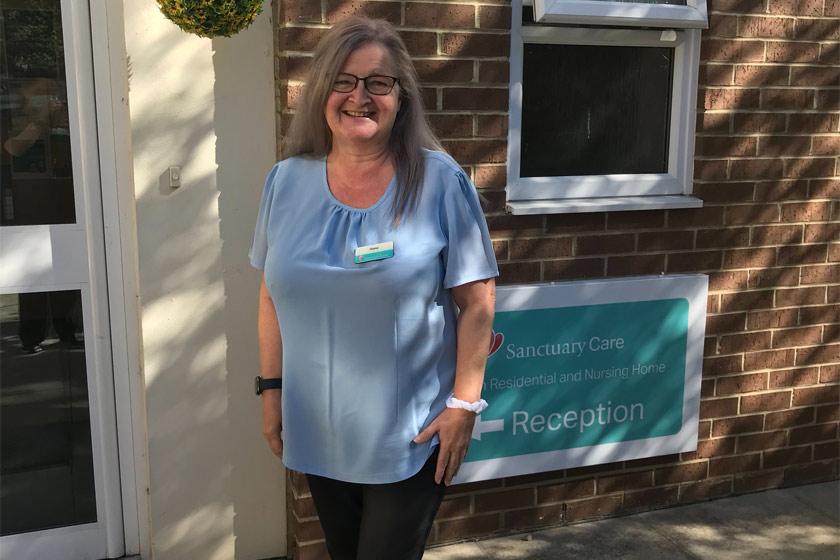 For administrator Diane Gibson, the team and residents at Pavillion Residential and Nursing Home in Sunderland are like a second family, which is why she has stayed there for an impressive 19 years!
"It's like a second home. It's lovely to come in and see the staff and residents every morning. Seeing our residents smiling when they see me means the world to me," she says.
Like Diane, many of the team have worked at the home for years and years. She adds: "The staff are like family they are so supportive. They are happy and smiley and there is always so much laughter between them and the residents."
During her time at the home Diane has seen some big changes – one of which being the introduction of kradle, Sanctuary Care's bespoke care planning app. Care plans are now electronic, stored on special kradle iPhones. It means carers can immediately update residents' personal plans at the touch of a button, giving them more time to spend with their residents.  
Diane said another benefit to working for Sanctuary Care is the support given from a mental health and wellbeing point of view, as well as internal learning and development support if staff wish to progress or change the direction of their careers.
For Diane, the reason she loves working at the Pavillion is simple: "It's a happy home from home."
To hear more about life at Pavillion our Enquiry Support Team are here to talk on 0800 917 0478.